Music fans rejoice; it's festival season at last. A time to abandon regular showers, sleeping hours, eating patterns and everyday life and embrace anything from a day to seven days of musical madness.
Luckily, Denmark, Sweden and Germany have you covered in terms of music genres and degree of mud and rain, with a huge selection of weekends to choose from.
Beyond the music
Of course, music festivals tend to focus on performances, but this year there's so much more to look forward to.
Look out for events that highlight beer, food and events other than music as festivals expand to improve overall experiences.
Special mentions must be given to Haven for a partnership with Mikkeller that will entice the beer fans among us, and to Roskilde for offering cultural seminars among the international names to raise awareness as well as provide performances to remember.
Something for everyone
This feature shows that regardless of how far you travel and what music you like, there is a festival for everyone this year.
Stay close to home at urban festivals such as Strøm or Carpark, or stray further afield to Way Out West in Gothenburg or Reerperbahn outside Hamburg.
Grab a raincoat and your best flower crown – it's time.
---
ON YOUR DOORSTEP:
Strøm
Aug 8-11; Frederiksberg & Cph; ticket prices vary; stromcph.dk
Combining top electronic artists with teaching and networking, Strøm presents both local and international artists at a festival that dares you to stop dancing. Located around Copenhagen at diverse venues such as churches and warehouses, you'll see a new side to the city while dancing the nights away.
Sølyst Open Air Festival
July 7-8; Emiliekildevej 2, Klampenborg; festival pass: 995kr; soelyst.dk
Combining pop and jazz with a fantastic outdoor setting, this festival puts sophistication into the art of drinking in a field. Hard to imagine there are many other festivals with a drinks menu offering Aperol Spritz and Hendrick's!
Haven
Aug 10-11; Refshalevej, Cph K; festival pass: 1,395kr; havenkbh.dk
In its own words, this festival combines art, music, food and beer – a winning combination no? Add in their big names: Arcade Fire, Ariel Pink, and the Royal Danish Orchestra with Dessner, and Haven looks a little like heaven for the weekend. Especially with that collaboration with Mikkeller beer.
Uhørt
Aug 24-26; Københavns Projekthus, Enghavevej 80-82, Cph V; one-day tickets available from 140kr, billetto.dk
Promoting new Danish and international music within the heart of the city is what this festival does best. Expect to gain a couple of new favourite acts coming to this one.
Carpark Festival
July 27-28; Under Bispeengbuen, Bispeengen 15, Frederiksberg; free adm; carparkfestival.dk
This urban festival in the heart of the city focuses on creativity and coming together through music and the use of city spaces. Names like Alcabean and Vakt will be there to help celebrate the community and culture of Copenhagen.
Summer in the City
July 26-29; multiple locations in Cph; free adm
This very relaxed festival promotes Danish artists at different places around the city. With free entry and indoor venues, this festival guarantees a good time.
Copenhagen Jazz Festival
July 6-15; multiple locations; prices vary; jazz.dk
The city's annual celebration of jazz returns, once again bringing over some of the world's finest musicians. Events will be spread throughout the city, taking place in a diverse range of venues.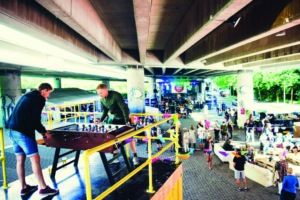 ---
WITHIN EASY RANGE:
Roskilde
July 1-7; Darupvej 19, Roskilde; Sold Out – check internet forums for tickets; roskilde-festival.dk
Boasting big names such as Eminem, Bruno Mars, and Dua Lipa, Roskilde's 2018 line-up will not disappoint its 130,000 annual festival-goers. But, be warned – it's not Roskilde if it doesn't rain, so make sure you bring plenty of waterproof gear.
Gilleleje
July 27-28; Bøgebakken 19, Gilleleje; festival pass: 375kr; beta.gillelejefestival.dk
Started in 2014, Gilleleje is a two-day festival consisting of eight concerts. This year's lineup includes big Danish names such as Jorgen de Mylius and Infernal. Tickets are selling fast, so make sure you book in advance.
New Note
Aug 2-4; Fredensvej 12A, Hillerød; festival pass: 400kr; newnotefestival.dk
A three-day festival run solely by local volunteers, New Note promotes fresh and upcoming music by Danish artists. This concert focuses on creating a pleasant summer vibe, all while being environmentally conscious.
Ringsted
Aug 2-5; Tværallé 1, Ringsted; festival pass: 1,015kr; ringstedfestival.dk
Held in a grove surround by an aged forest, Ringsted is not just famous for its eclectic musical scene. Under the cosy coloured lights that hang from the tree canopy above, festival attendees give and receive hugs, helping to create an unmissable atmosphere of love and acceptance.
Vig
July 12-14; Holbækvej 16B, Vig; festival pass: 1,200kr; vigfestival.dk
A festival for the whole family, Vig creates a cosy atmosphere so people of all ages can attend. This year's festival has performances from Thomas Helmig, Rasmus Seebach and Nik & Jay. There are normal festival passes, family tickets and one day passes – plenty of options for a family to agree upon.
Nakkefestival
July 25-28; Søndervangsvej 43, Odsherred; festival pass: 550kr; nakkefestival.dk
Nakkefestival prides itself on inviting challenging artists from many different genres. A breath of fresh air from the usual festival scene, this hippie festival is a must-attend for anyone looking to expand their cultural horizons.
Musik I Lejet
July 19-22; Hovedgaden 114 Tisvildeleje, Frederiksborg; Sold Out, one-day tickets remain; musikilejet.dk
Located just west of the very tip of Zealand and boasting names such as Carl Emil Pedersen, M.I.L.K. and Dagny, the rain won't stop this festival from outshining the rest. The sold-out festival passes are another good sign you're onto a winner.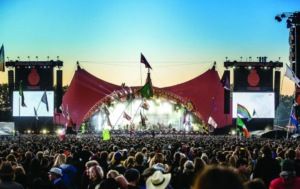 ---
IN THE STICKS:
Grøn
July 19-29; different venues across Denmark; groenkoncert.dk
Grøn Koncert is a ten-day travelling festival of almost exclusively Danish artists. Muskelsvindfonden, a Danish organisation for people with muscular dystrophy, is the primary organiser of the festival. To support this good cause, visit the festival at one of eight locations, which include Aarhus, Odense, and Valby.
Tinderbox
June 28-July 1; Tusindårsskoven, Falen, Odense; festival pass: 1,596kr; tinderbox.dk
Hosted in the Millennium Forest, the Tinderbox festival promises leading names from the international and Danish music scenes, including Wiz Khalifa, French Montana and Bastille. Make sure you buy your tickets soon as they are selling out fast.
Samsø Festival
July 18-21; Marsk Stigsvej 20, Samsø; Sold Out, one-day tickets from 570kr; samfest.dk
Brilliant sunshine, and intimate atmosphere and a good party – that's what you get when you attend the Samsø Festival. Don't miss out on Denmark's friendliest party! Check the website for ticket pricing.
Smukfest
Aug 5-13; Skanderborg forest; Sold Out, check internet forums; smukfest.dk
Known as 'Denmark's most beautiful festival', Smukfest is not one to be missed. Every year, nearly 55,000 people pile into the Dyrehaven forrest to enjoy a world-class line-up.
Tønder Festival
Aug 23-26; Vestergade 80, Tønder; festival pass: 1,490kr; tf.dk
This annual folk music festival boasts 'handmade music'. Genres as diverse as indie rock, cajun, and Irish melodies all come together to form the unique essence of the Tønder Festival.
Langelandsfestival
July 21-28; Ryttergårdsvej 116, Farum; festival pass: 1,850kr; langelandsfestival.dk
Names such as Rasmus Seebach and Christopher should grab your interest enough to check out this festival – it asks for you to be in the party mood and I'm sure this will make it happen!
Aarhus Jazz
July 13-21; multiple venues in Aarhus; tickets available at venues; jazzfest.dk
Celebrating its 30th year, this excellent jazz festival covers all of Aarhus with a combination of all jazz styles – there is sure to be something for everyone!
GrimFest
Aug 3-4; Grimhøjvej 20, Brabrand, Aarhus; festival pass: 670kr; grimfest.dk
Some 15 years down the line, GrimFest is still rocking with a combination of big names and unknown artists. This year they welcome Baest, Jada and VETO to ensure the party continues rain or shine.
Wonderfestiwall
Aug 16-19; Slotslyngvej 7, Allinge, Bornholm; festival pass: 775kr; wonderfestiwall.dk
Alma – Finland's powerhouse voice – adds some excitement to this year's island line-up, which includes Carl Emil Petersen of Ulige Numre fame. Don't miss dreamy indie-duo The Attic Sleepers – a perfect soundtrack to a weekend at this island getaway festival.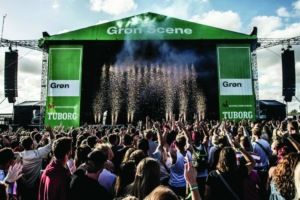 ---
BEYOND THE BORDERS: 
Emmaboda
July 25-29; Rasslebygd, Emmaboda, Sweden; festival pass: 1,299 Swedish kroner; emmabodafestivalen.se
2008 signalled a shift towards electronic music for this Swedish festival and it has grown in popularity ever since. With non-stop lasers and bass all night, prepare to party all night and sleep when you leave.
Way Out West
Aug 9-11; Slottsskogen, Gothenburg, Sweden; festival pass: 1,995 Swedish kroner; wayoutwest.se
Way Out West has knocked it out of the park with its line-up this year. With Arctic Monkeys, Kendrick Lamar and Arcade Fire signed up, this is surely worth the trip. WOW festival indeed!
Reeperbahn
Sep 19-22; Reeperbahn, Hamburg, Germany; festival pass: 99 euros; reeperbahnfestival.com
Hamburg's longest-running festival offers inclusivity and positivity with a line-up that includes Alma, Swedish-German duo 1000 Gram and the UK's Jess Glynne. Some 40,000 people will flock to this festival so buy now to avoid any disappointment!
Wacken Open Air
Aug 2-4; Hauptstraße 47, Wacken, Schleswig-Holstein, Germany; festival pass: 221 euros; metaltix.com
Heavy metal lovers rejoice! Wacken is here to provide all of your metal needs over this three-day festival. With stages named Faster, Harder and Louder, as well as metal battles every day, get ready to head-bang.
Statement
Aug 31-Sep 1; Bananpiren, Gothenburg, Sweden; festival pass: 850 Swedish kroner; statementfestival.se
Welcome to the world's first female-only festival. Looking to create a safe space for women who wish to enjoy the festival season, the organisers behind Statement created a festival that boasts female artists and comedians, as well as promoting female empowerment – go girls!