Josephine Fock, the new leader of Alternativet, is already under pressure despite only being in the job for barely a month.
A recent article in Information portrayed her as an "incendiary device", both "intimidating and overbearing" who sometimes expresses her anger aggressively and physically.
Fock denied the allegations, although she concedes she might have been a little over-zealous in the past in her bid to advance her career.
"There is no doubt that we have been under pressure and that our temperaments might have got the better of us," she told TV2. "There are different perceptions to what it means to be professional."
Conflicts reignited
Franciska Rosenkilde, who as the Copenhagen culture mayor is one of the party's most prominent politicians, told DR2 it would be a mistake for Fock not to be more introspective.
Her appointment, claimed Rosenkilde, has "rekindled old conflicts".
In recent weeks, former leader Uffe Elbaek, who co-founded Alternativet in 2014 with Folk, has left the party along with Susanne Zimmer, Sikandar Siddique and Rasmus Nordqvist.
As a parting shot, Elbaek told DR he had "personal conflicts" with Fock. (RM)
Focked in the polls
Alternativet performed poorly in early February opinion polls conducted by Voxmeter in which only 1.9 percent of the public said they would vote for the party.
This is less than the 2 percent needed to be re-elected, and a drop from the party's 3 percent election result in June 2019.
But although Fock's party appears to be lacking popularity, her name is not.
Winning more than a new office, Fock has drawn the attention of easily amused fans of the double-entendre in English, as her name is more correctly pronounced in Danish with a 'uh' sound than an 'oh' one.
Apparently, it is not just her party that has an alternative message but her name too.
Others in trouble
Fock is not the only one to fall victim to cross-cultural misinterpretation over the years.
In the late 1990s, the name of the US ambassador to Denmark, Richard (Dick) Swett, suggested that he didn't just get hot under his collar when it came to international affairs.
Dutch Socialist Party senate leader Martinus (Tiny) Kox's name is similarly open to ridicule.
President Trump's name, like his politics to many, stinks. And the less said about German engineer Felix Wankel the better.
Not just English that causes problems
Sean Connery's surname resembles 'connerie', French for 'bullshit' – not quite the review the award-winning Scottish actor is used to.
The curse of a double meaning even affects technology. There's many a slip 'twixt cup and lip for millions of Apple product owners, who have been left with no alternative but to be rude to their built-in personal assistant Siri.
It may be a popular name in Scandinavia, but Siri translates as arse in Japanese and is slang for penis in Georgian.
Grab a bargain but at a cost
Hosting a non-Danish speaker in Denmark? Be careful, as there are many hidden polysemies waiting for the unwary.
A trip to the end of the sales may sound like a good way to spend the afternoon to you, but suggesting the Danish translation 'slut-spurt' may leave you having to explain yourself.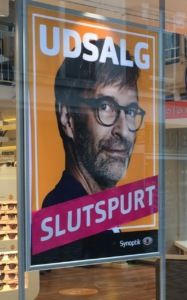 If in a hurry to get there in time, you may want to describe the 'fartkontrol' (Speed monitoring in Danish) up ahead to your passenger in English.
Eager to wind down over a pint after you are done? Be careful when suggesting an Aass Fatøl (Norwegian beer), especially if you plan to do so in Vesterbro's Spunk Bar, which until recently was just 200 metres down the road from an eatery simply entitled 'Skank'.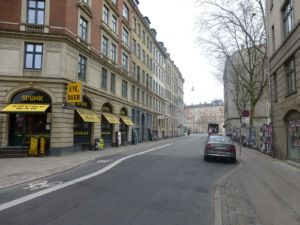 Mind how you go
It may also be worth considering the name of your car, as the auto-industry is no stranger to naming blunders.
The 'Ford Pinto' drove into trouble in Brazil, as Pinto means 'tiny penis' in slang.
And GM Buick's 'LaCrosse' surely merited a few 'oo la las' in Quebec, where it means 'masturbation' or 'I just got screwed' in teenage slang.
Undermining their advertising campaign, and raising some eyebrows, Rolls Royce originally named their Silver Shadow the 'Silver Mist', but changed it upon realising they were promoting silver shit in Germany.
What can you do?
There are probably no sentences or names, in any language, that can't be misinterpreted elsewhere.
However, those worried about navigating the linguistic minefield, should maybe take a lead from Lewis Caroll's Humpty Dumpty, who both assertively and playfully said: "When I use a word … it means just what I choose it to mean – nothing more nor less."