If the lingering dark of the winter weather has you down, maybe it's time to reconnect with your inner Viking and prepare for the advancing summer by taking to the sea.
Become the best
The Royal Danish Yacht Club is offering a 16-week sailing course starting next month that will turn every novice into Danish Olympic gold medalist Paul Elvstrøm's biggest rival.
You may not get to sail in an old-fashioned Viking longboat, but the windy conditions on the shore of Copenhagen are top-notch for sailing.
Whether you're looking to meet new friends or simply want to acquire new tricks that enable you to act out the most exciting scenes from 'Game of Thrones', prices start at 2,400 kroner.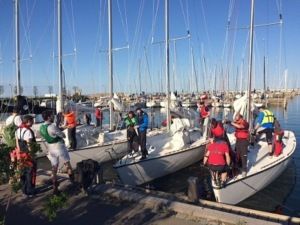 Tuition in English
Starting on April 27, the course will be a perfect opportunity to receive a Danish sailing licence before the sunshine hits and the sailing season commences on one of the most expansive coastlines in the world.
Sailors from all ages and experience levels are encouraged to join. The course includes learning commands, wind awareness, controlling the boat speed, sailing rules, and much more.
Don't speak Danish? No problem! An information session for English speakers will be held on March 16 from 19:00-21:00 at Skovshoved Harbour in the KDY clubhouse.
Teachers are also willing to teach commands in both Danish and English if you feel like you may miss out on the Viking experience by not getting to shout sailing commands at your companions in Danish.
To learn more, visit the KDY website in English for more information at kdy.dk.