Ian Burns and That Theatre have announced two extra shows following the completion of their run of  'Educating Rita' on November 25.
These performances will take place at the 250-seat theatre at Copenhagen International School (Levantkaj 4-14, Nordhavn) on Wednesday 29 November at 19:00 and Thursday 30 November at 19:00. Tickets cost 100 kroner and can be reserved via theatre@cis.dk or paid for at the door.
In the meantime, until Saturday, the play will continue at Krudttønden theatre in Østerbro, where (left-right) Dawn Wall (Rita), director Barry McKenna and Burns (Frank) enjoyed a successful premiere on October 25.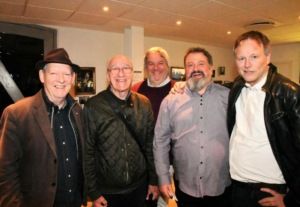 McKenna was then joined by (centre left: left-right) Claus Bue, Tom McEwan,  Andrew Jeffers and That Theatre co-founder Julian Simpson in the bar.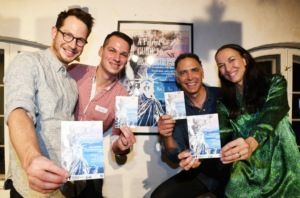 Also enjoying a successful opening night were the cast of 'A Patriot's Guide to America' at the House of International Theatre at Huset (centre right: left-right): Alex Lehman, Jeremy Thomas-Poulsen (director/creator), Tom Hale and Tina Robinson.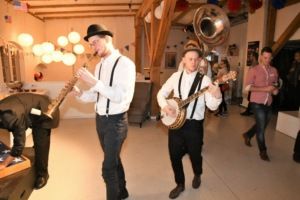 And the fun continued in the foyer after the show.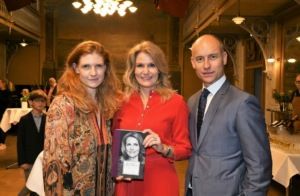 Meanwhile, Stephen Kinnock (right), who is as short as 18/1 with Paddy Power to be the next leader of the UK Labour Party, accompanied his wife Helle Thorning-Schmidt to the launch of her new book, 'Hvad man ikke dør af', at Arbejdermuseet on October 12