Did the paintings of the Danish artist Fritz Melbye influence one of the fathers of French impressionism?
Say the name Camille Pissarro to most art enthusiasts and French impressionism is probably the first thing that springs to mind. Melbye, on the other hand, more or less faded into obscurity until being rediscovered comparatively recently.
Cosmopolitan background
However, Pissarro was not actually French – he was born in 1830 on the island of Saint Thomas in what was then the Danish West Indies into a Portuguese/French Jewish family, and he was a Danish citizen.
A newly-opened exhibition at Ordrupgaard attempts to shed light on Pissarro's early, pre-impressionist work and also to highlight the deep and lasting friendship between Pissarro and the Danish Golden Age painter Fritz Melbye.
The exhibition additionally tries to show how an appreciation of the Dane's choice of subjects, colour, use of shadows and the practice of painting oil sketches outdoors contributed to Pissarro's later, full-on impressionist works.
In search of inspiration
By all accounts, Melbye was a restless and energetic young man, consumed with wanderlust. Four years older than Pissarro, he left Denmark for the West Indies and arrived there in 1849. There he met Pissarro and encouraged and inspired him to take up painting full-time, becoming his teacher, mentor and friend.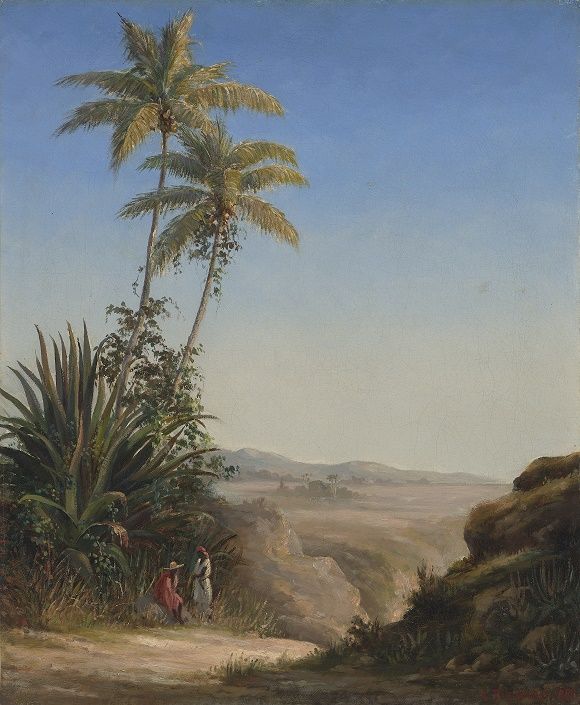 Melbye, who was mostly known as a painter of landscapes and seascapes, travelled to the 'New World' in search of inspiration. At that time, the work of the pioneering Prussian naturalist and geographer Alexander von Humboldt was creating a stir around Europe. Humboldt's influence provided a powerful impetus for the two young artists to leave the Danish colony and travel to Venezuela.
There, the two young men set up a studio together and worked side-by-side for two years, mainly in Caracas and La Guaira. Their artistic and personal relationship was so close that it is still not possible to attribute all the works from this period to one or the other artist with 100 percent certainty.
Under the palm trees
Their pictures from Venezuela are mainly depictions of nature: of jungle vegetation and ordinary life in the small villages that they came across on their excursions. Palm trees dominate their drawings and oil sketches (below).
Melbye became a natural focal-point in the group of artists in Venezuela. In a letter to Pissarro, Mariano Palacio, another artist in the group, referred to Melbye as "our master" and went on: "I can still see you, looking at endless studies by Melbye again and again, which so touched your inflamed imagination."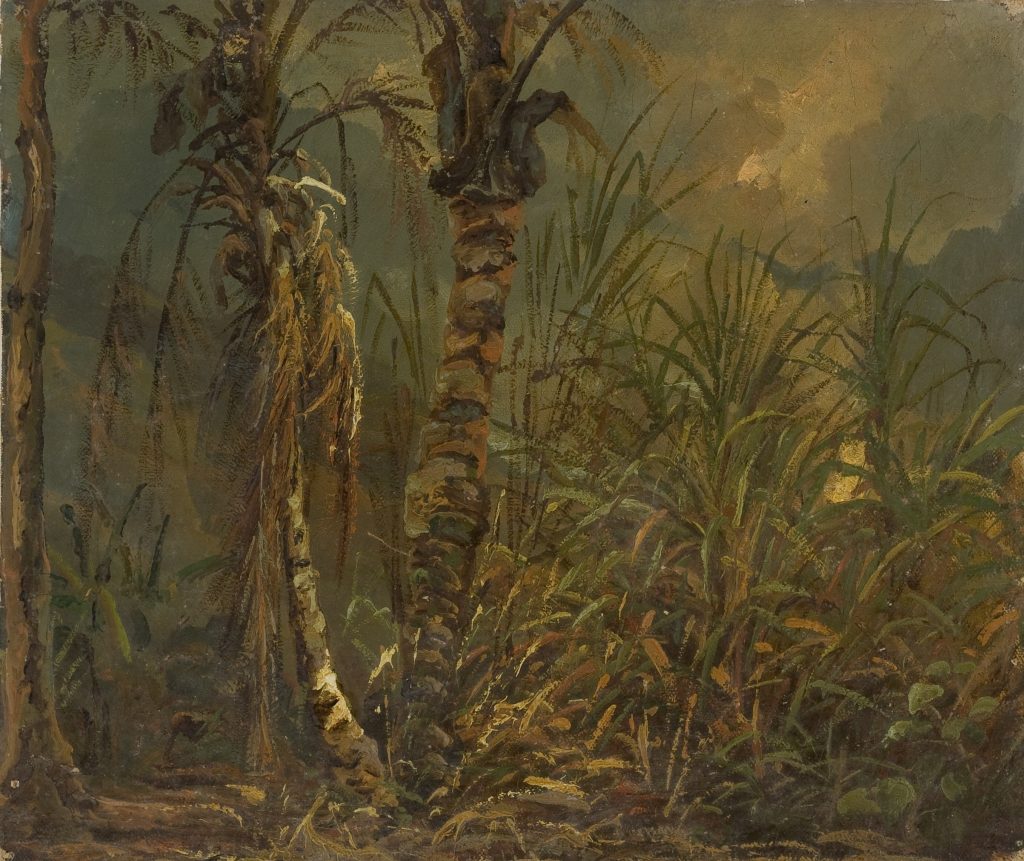 Melbye was probably also responsible for promoting the technique of painting oil sketches in the open air to his young colleague. This was a tradition that he had learnt in Denmark, which had been used by Eckersberg and his pupils. Melbye had even gone so far as to take with him in his luggage a small study of a group of trees in a forest, painted in Sorgenfri, so it was obviously important to him. It is also extremely probable that he showed this to Pissarro.
To Paris and beyond
Ultimately, the two men went their separate ways. Pissarro went back to St Thomas for a year and then on to Paris, where he arrived in 1855. There he associated with other Danish artists, including Fritz Melbye's brother, Anton, and David Jacobsen.
In 1856, the friends were reunited for a time when Fritz came to stay for several months. Again they worked together. However, in 1857, Melbye left Paris to return to the 'New World' and he and Pissarro never met again. Melbye went on to New York and travelled to Newfoundland, Cuba, Santo Domingo and Jamaica. His travels finally ended with his death in Shanghai on 14 December 1869. He was only 43. It is tempting to speculate how his career (and posthumous artistic reputation) would have fared had he lived longer.
Pissarro, of course, went on to have a long and illustrious career, dying in 1903. Interestingly, he never renounced his Danish citizenship.
A hidden cache
The exhibition consists of more than 100 works, many of which will be unfamiliar to the viewer. As an added spice, several come from a relatively newly-discovered source: they were found under the stairs in the home of the American landscape painter Frederic Church. Melbye had taken them with him to America and left them for safekeeping with Church, who died in 1900. They were then forgotten.
These drawings, sketches and oil studies emphasise just how closely aligned artistically Pissarro and Melbye were. As an added bonus, viewers can amuse themselves trying to guess who has created which work!