Charlie Waller is a star. No, I'm not just saying that because he was the standout in Leftfield Theatre's production of Martin McDonagh's 'The Pillowman', the haunting tale of an investigation into some child killings in a future totalitarian state, which continues at Bastarden theatre at Huset until April 9 and for which tickets are just 70 kroner.
READ MORE: Ripping away your comfort pillow to deliver high-octane theatre turbulence
Move over Fats
Waller's been a star for over a decade, and it's Copenhagen's luck that the 30-something lead singer of acclaimed British band the Rumble Strips (you might know their music from 'Run Fatboy Run' and 'The Inbetweeners', or their collaboration with Mark Ronson – see below) is currently a resident.
Like so many musicians before him – Marky Mark, Cher, Meatloaf; okay, not so much Elvis, Madonna, Mariah Carey – Waller has that unteachable lead singer's gift of connecting with an audience without looking desperate to do so.
As an actor he has similar qualities to Iwan Rheon (Ramsay Bolton in 'Game of Thrones'/Simon in 'Misfits') – a virginal innocence with a twinkle in the eye that suggests he'll murder your family if he needs to.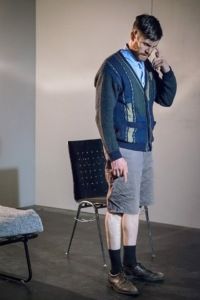 Roger Daltry's hair
Unused in act one, Waller performed solo for the opening minutes of act two, elevating the production.
Truth be told: Bastarden is a pokey black box theatre stage, and the word is that Leftfield are the first group to stage a proper play there for years.
With capacity for just 50 seats, rows two and three out of five are on the same level as the front one – and it's no laughing matter sitting behind a front row bagsied by Roger Daltrey's Tommy and his followers.
Sandwiched between two music venues, the pressure was on Leftfield to start and finish early or risk being silenced by a cacophony of sound.
And this was partly responsible for the overly quick pace of the production. Three hours just wasn't long enough to do justice to McDonagh's script – to bring more calms before the storm.
While the play opened with a long, effective silence – served by a wonderful soundtrack by composer Paul Damade that impressed throughout, without ever being intrusive – more spells of stillness might have better served to further accentuate the more explosive moments in the play.
Quite a transformation
The production deserved a better venue, particularly as alongside Waller were a decent cast who gave their all.
Marius Lathey, playing the lead role of Katurian – the brother of Michal (Waller), whose children's tales might have inspired a serial killer – gathered gravitas over time as part of his immense story arc, as he evolved from a twitching, repellent character into the story's hero – a transformation that made you question whether it was the same actor.
And David Barrett and Luis Montero as the murder investigators (who recall Tom Sizemore and Chris Penn in 'True Romance') took the lion's share of the laughs with some trademark McDonagh male bickering. It was most particularly in their scenes that pacing was an issue, and it would have been interesting to see what they could have done with more time.
Pick a puppet or two?
And, of course, more money, although this didn't show with the props and wardrobe – a monumental effort by the production team. 
As well as finding a better stage (although, it's hard to imagine a better spiritual home for this pulp fiction than Huset), more variation in the method of storytelling was needed – particularly in the case of the main character's gruesome children's stories, which were acted out behind Katurian in a dimly-lit setting, as he sat in the foreground at his writing desk narrating.
Had Leftfield used puppetry (as was their original intention before they were let down two weeks before the opening night) to break up the monotony (and downsize the cast from eight to five), we might be talking about the emergence of this city's best new theatre group in decades.
Leftfield's future is bright alright, and as long as they have Waller and the fearless director Lee Elms on their team, they will continue to push the envelope, but in the case of 'The Pillowman', the production didn't quite match their ambition.