FFS
Sep 10, 19:30; Tivolis Koncertsal; 375kr
The Scottish indie rock group Franz Ferdinand and the US pop-rock band Sparks officially announced their formation this March, converging into one group called FFS.
So if you're a fan of either, you'll love to know the supergroup is playing at Tivoli with a mixture of tunes that will blow your mind.
LA band Sparks was formed by brothers Ron and Russell Mael in 1971, a year before the birth of Alex Kapranos, the lead singer of Franz Ferdinand, but despite the age-gap, he is a massive fan, and as an aspiring musician was bewitched by the sophisticated rock of Sparks' masterpiece, Kimono my House (1974). He is heavily influenced by their music and it has clearly had a great impact on him.
Likewise, when Franz Ferdinand released the song 'Take me Out' in 2004, the Mael Brothers completely fell in love. They made contact and the possibility of a collaboration started to materialise.
And now their dreams have come true with their first album together, FSS. And with new songs like 'Piss off', it's a keeper. It's exactly the combination of speed (think Sparks albums from the 1970s) and energy (FF) you might expect.
Another track worth listening to is 'Johnny Delusional' – just the right balance of glam, darkness and fun.
But don't despair! If you are feeling sceptical about the combination, you will still have plenty of the bands' old tunes to enjoy, as the concert will be a compilation of their new album and all their best songs.
---
Europe
Sep 21, 20:00; Amager Bio, Cph S; 325kr

With hard rock hot again, this Swedish 1980s band are back on fire! Enjoy some old songs and their brand new album, War of Kings. But don't worry, they're bound to play 'The Final Countdown' at least twice. (EN)
---
The No Go Girls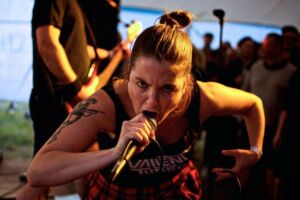 Sep 17, 21:00; Råhuset, Cph V; free adm

Support your local bands! The No Go Girls – which are actually three boys and one girl – perform 1980s-style hardcore punk straight from Copenhagen's underground scene. They're raw, unpolished and unforgettable. (LK)
---
Suspekt
Sep 18, 22:00; Tivoli; free entry to the gardens; fredagsrock.dk
Want to enjoy some explicit Danish rap in the country's happiest place? Besides, you've been listening to them all summer on the radio, so come along and enjoy their single 'Søndagsbarn', which they co-released with Lukas Graham. (EN)
---