Bob Dylan and His Band
Fri Oct 9, 20:00;
Falconer Salen, Frederiksberg;
starting at 900kr
A true legend of music is returning to shake up the city again. Still only 74 years old, the Minnesotan has been a massively influential music figure for over five decades now – if ever there was a concert that should be on your bucket list, this is it!
For his latest album, Shadows of the Night, he found inspiration in the rock history that he helped write, transforming classics of the Great American songbook, like 'Stay with Me' (Frank Sinatra, 1963), into blues songs. It is an album, contend critics, that fits perfectly with the persona Dylan has developed into nowadays.
It's true that Dylan's voice is not as young as it used to sound, but his concerts are still magical experiences. He still has that ability to surprise, frequently experimenting on stage, whether it's making random spontaneous changes to the tempo or even the key.
With the greats there's always a danger they might rigidly stick to their new material. Seeing Dylan live and not hearing his old classics – 'Like a Rolling Stone', 'Mr Tambourine Man', 'Blowing in the Wind', 'A Hard Rains Gonna-Fall', the list goes on and on – would be disappointing.
But that very rarely happens these days, and we think it's a safe bet Dylan will share his full reportoire, even if he clearly isn't ready to check out just yet.
Andy McKee
Thu Oct 8, 19:00;
Amager Bio;
280kr
Few acoustic guitarists are as original and stylistic as New Jersey-born Andy McKee. His captivating technique, flawless original songs and multi-layered covers will transfix you. It's all bewilderingly complex for a silent man and six strings. (JM)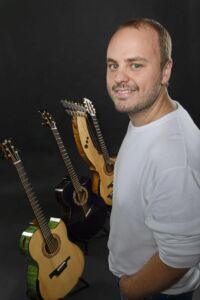 Concert for John – A John Lennon Tribute
Fri 9 Oct, 21:00; Amager Bio; 200kr
Nearly 35 years on from the murder that shocked the world, Denmark's two leading Beatles tribute groups, Rubber Band and REPEATLES, are joining forces to pay tribute to their idol, the legendary John Lennon. (LAB)