PULSE
Open daily through Dec, 10:00-17:00; Experimentarium City, Trangravsvej 12, Cph K; 105-160kr; experimentarium.dk
The exhibition PULSE – everyday life upside down at Experimentarium offers different humorous and vibrant indoor challenges to its visitors every day.
It can get competitive – some people might train for this like they were training for a marathon, although they're more likely to burn calories through laughter than anything else.
Among the fascinating activities they have on offer are 'The Balance Kitchen', where you can swing and climb like Spiderman using tea towels and rolling pins. Jump around and use your upper body strength to maintain balance.
'The Obstacle Hallway' is a great opportunity for you to unleash your inner ninja skills. Take some inspiration from the Mission Impossible movies to avoid the tricky string obstacles coming your way to make it to the other side.
If you like dancing, join the fun at 'The Dance Bathroom' where you can train your co-ordination and balance with upbeat music and fellow energetic dancers.
It will definitely help you lighten up, so dance your stress away!
Would you also like to have the best chair in the room? Battle in 'The Rodeo Lounge' where the biggest couch potato gets tipped off his or her throne.
Whoever manages to sit the longest takes home the award.
Remember that all the activities require two or more participants. It is after all healthy, active family fun at its very best.
---
Xmas Workshop
every Sat & Sun from Dec 5-27, 10:30-16:30; SMK, Sølvgade 48, Cph K; 45kr; recommended age 3-18; smk.dk

Creative kiddos are invited to embrace the Christmas spirit and prepare handmade presents for their loved ones.
There are plenty of materials to choose from to make a perfect masterpiece. Play around and experiment with clay, plaster, colourful paper, cardboard and much more.
Some in-house artists will be present to guide the children and bring out the creativity in them.
The workshop is open to 3 to 18-year-olds, which means kids of all sizes are welcome. So join the fun and get your hands dirty!
---
The nisse-Twins
Dec 14 -18, performances start at 10:00; Dansekapellet, Bispebjerg Torv 1, Cph NV; free adm, register at cr9c@kff.kk.dk; recommended age 4-7; dansekapellet.dk
They barely speak – and only communicate in a cheerful mischievous way. However that does not stop them from being highly entertaining.
Through their friendly, funny approach and their rhythm, steps and gestures, they will capture your children's attention.
This cold Christmas, be amazed by these young male breakdancers and enjoy a spectacular show with a smile on your face.
Although free, there are a limited number of seats, so registration is required. Shows start as early as 10am.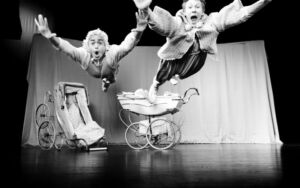 ---
Hour of the Wolf
every Wed until Dec 16, 16:30-18:30; Gentofte Library, Ahlmanns Allé 6; kids 30kr, adults 60kr; genbib.dk; in Danish
All children enjoy a good bedtime story, and most of the best ones involve a wolf. And then when they're as hungry as one, you can treat them to din-dins at the library's Café Nema.
---
A Christmas Carol
ongoing, ends Dec 20; Tue-Fri 09:30, Sat-Sun 13:00; Open Air Museum, Kongens Lyngby; 95-165kr; natmus.dk

Back by popular demand, the Open Air Museum presents the child-pleasing festive story A Christmas Carol. It's in Danish, but we're sure your kids will love Dickens' supernatural tale.
---
Rhythm & Rhyme
Dec 2, 09:30-10:15; Gentofte Library, Ahlmanns Allé 6; free adm; genbib.dk; recommended age 1-4
Sing along to your favourite Christmas carols, both in English and Danish, take part in fun games, and enjoy some classic Xmas movies.
---
Dads Playgroup
Every Tue until Dec 22, 09:30-12:30; Kulturanstalten, Cph V; recommended age 2 and below; free adm; kulturanstalten.dk

Spend good alone time with your young one without mum's protection where kids can play around with equipment from the hall. And meet fellow dads for some socialising.
---
Christmas at the Zoo
Every Sun until Dec 27, 10:00-16:00; Roskildevej 38, Frederiksberg; 95-170kr; zoo.dk

Experience the reindeer caravan when it pulls through at the zoo. Santa Claus will be present on November 29 while there is a Christmas workshop where you can make gifts and ornaments.