Embark on a fun and colourful autumn break with the entire family, in and around Copenhagen. Art, animals and architecture are there for the taking.
Spend a day in Hans Christian Andersen's fairy-tales
This autumn break, the Princess and the Pea and other memorable characters from HC Andersen's delightful fairy-tales will come alive at the Open Air Museum. Every day from October 15-22, 11:00-15:00, the museum offers a smorgasbord of enchanting activities for the entire family. Say hi to Clumsy Hans, go on a ride in the horse carriage, watch a short play, and set out on the self-guided tour 'Once Upon a Time There Was a Boy', which makes seven stops in Andersen's own childhood. Meanwhile, the parents can visit old houses and farms at this 40-hectare museum marvel.
City struck and LEGO blocks
On October 13, DAC opens its final major exhibition, City Struck, before moving into its new home in 2018. This architecture photography exhibition examines how the city influences its inhabitants and vice-versa. The engaging photographs grant you the inspiration you will need in the LEGO Architect workshop to build a replica of your favourite building. The workshop focuses on beloved buildings and looks at how we can share them with the world around us, just like the exhibition. Workshops commence on Saturday October 14 and runs until Sunday the 22nd.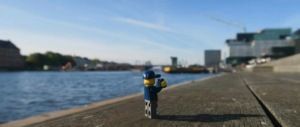 Brave new world at Copenhagen Zoo
Mamma Rhino is pregnant! Her rhinoceros calf is likely to enter the world during the holidays. This autumn is also a new beginning for a young and beautiful zebra stallion who is freshly arrived in Copenhagen from Emmen Zoo in the Netherlands. Don't miss visiting the predator enclosures with the zookeeper and seeing the polar bears working out underwater. It is also possible to book a close encounter with the Tasmanian devils, and as always you can watch some of the many feeding sessions with penguins, black-capped squirrel monkeys, birds, otters and other fun-loving creatures.
We go the gallery: Families in art
Throughout the autumn school break, the National Gallery of Denmark (SMK) is hosting a series of family activities in alignment with their current exhibition Gillian Wearing – Family Stories. Tour the renowned British artist's poignant stories about familial relations, take part in a family dance session, build a sculpture in the children's workshop, or enjoy a cosy dinner together at the gallery in stunning surroundings. Pssst: SMK's location calls for a stroll through the Botanical Gardens or a visit to the neighbouring Hirschsprung Collection with its superlative collection of Danish paintings and sculptures.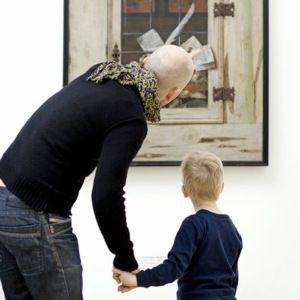 For more inspiration from the museums, visit Copenhagen Museums & Attractions at Cphmuseums.com