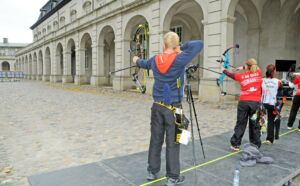 The South Koreans tend to dominate when it comes to archery so it was a familiar story when they won six of the ten major titles (including three of the four individual golds) at the 2015 World Archery Championships, which were held from 26 July to 2 August.
The qualifiers and eliminators took place at the Sundby Idrætspark, and the medal matches were contested outside Christiansborg Palace (left).
Kim Woo-jin took the men's recurve individual title and Ki Bo-bae the women's recurve and Kim Yun-hee the women's compound, and they were cheered on by the South Korean ambassador, Young-sam Ma, who then had the honour of presenting a gold medal to the victorious South Korean recurve mixed team (centre).
In total 623 competitors from over 100 countries took part.