TOP PICK:
The Trouble with Dad (DR2, Oct 17, 23:05)
Celebrities interacting with parents on camera is becoming a thing. From the Netflix series Jack Whitehall: Travels with my Father, which has its moments but is too obviously scripted, to Denmark's very own På rejse med Riising og mor, we'd better get used to them.
The Trouble with Dad has a different tone. Comedian David Baddiel's father has Pick's Disease, which makes him use Tourette's-like language in waves of uncontrolled intensity. To raise awareness, Baddiel takes us on a highly personal journey and the result is both funny and touching.
We learn Baddiel has always doubted his father's love for him – in the same way he doubts his contribution to English comedy perhaps – but can he resolve this hang-up?
Punctuated by clips from his standup tour, this is the best thing Baddiel's been involved in since he co-wrote 'Three Lions'. (BH)
ALSO NEW:
Who's watched an appeal for a missing girl and thought: "I bet the stepdad did it." But how many times has it been the entire family? The Moorside (DR2; Oct 4 & 11, 21:30) revisits the case of Shannon Matthews, a nine-year-old girl 'abducted' to make money out of the publicity. Britain's go-to TV actress Sheridan Smith (below, centre) plays the mother, so quality is assured, as is the most moronic family ever dramatised.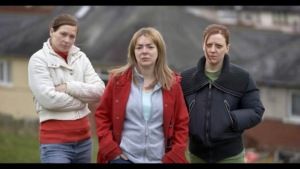 They all did it? For no obvious reason, that leads us to the lavish World's Most Famous Train (DRK, Oct 5, 23:05), and why not try Slow Train through Africa with Griff Rhys Jones (DR2; Oct 12, 19:10) as a travelling companion?
Three's a crowd in The Beatles, Hippies and Hell's Angels (DRK, Oct 18, 23:45), an exploration of the fab four's creation of Apple Corps in 1968, while Risk (SVT2; Oct 16, 22:20) lifts the lid on the mysterious world of Julian Assange.
Elsewhere, we've got S2 of British manhunt drama series Prey (DR2; Oct 18, 20:00) and S3 of US series Mr Robot (SVT2; Oct 18, 22:15); another chance to see 2002 miniseries Doctor Zhivago (DRK; Oct 13, 21:00); a Marilyn Monroe theme night (DRK; Oct 10, 20:45); and docs Mr Dynamite: The Rise of James Brown (DR2; Oct 16, 12:40), Iraq after ISIS (DR2; Oct 5, 23:00) and Battle of Jutland (DRK, Oct 9, 18:55). (BH)
COMING SOON:
Reboots aren't just for movies anymore; television reboots are becoming increasingly popular as well. Will and Grace (73 on Metacritic) is one of the many shows getting the chance to shine again. Eleven years after the sitcom ended in 2006, the core cast are all returning.
No danger of that happening with a prequel – unless it's the non-human characters in Star Wars. Young Sheldon (63), a spinoff of The Big Bang Theory, takes us back to Sheldon Cooper's childhood, with Jim Parsons (his adult self) narrating the series.
Before you ask, The Mayor (67) isn't a sequel to the The Fresh Prince of Bel-Air. For starters, its star has some street cred and can actually rap and, furthermore, it's patently absurd. Come on … a plot in which somebody runs for office to promote his business interests – like that's ever going to happen.
Elsewhere, the sublime Ken Burns is back with the documentary series The Vietnam War (90) to follow his epic takes on the Civil War and World War II; The State is a compelling British miniseries about four young people joining IS; and Star Trek: Discovery (74) is a prequel to the original, but not in the Kelvin Timeline – whatever that means, trekkies. (EH)
TOP SPORT:
Montenegro is a must-win game, not only for Denmark but anyone who doesn't want to watch the 2018 WC in a morgue (K5, Oct 5, 20:45). And don't miss Wales vs Ireland (K6, Oct 9, 20:45). Elsewhere, Real Madrid host Tottenham in the CL (3+, Oct 17, 20:45), the country's top boxer Patrick Nielsen takes on John Ryder (3+, Oct 14, 21:00), and F1 continues with the Japanese GP (3+, Oct 8, 06:00). (BH)
TOP FILM:
From the sub prime meltdown in 99 Holmes (DR2, Oct 6, 20:00) to an actual tsunami in The Impossible (DR3, Oct 13, 23:00), this line-up is packed with heavy drama. Fortunately spelling bee comedy Bad Words (DR3; Oct 14, 21:00), Paul Potts biopic One Chance (TV2; Oct 7, 21:40) and Amy Schumer in Trainwreck (TV3; Oct 13, 22:00) offer light relief. Focus (TV3, Oct 8, 21:00), though, is merely lightweight. (BH)