Photos by: Beverly Lloyd- Roberts
About 40 people participated in a climate justice pilgrimage at Kalvebod Fælled on Saturday 13 September that was co-organised by Owen Prewett from St Alban's Church (top).
At the onset, light rain sprinkled the participants, but as they walked on, the sun and the wind accompanied them through grass areas to a little mound where prayers were said to the four corners.
Onwards through a forest and a field of cows, the participants walked and ended the 'walk and worship' in the large wooden playground ship by Naturcenter Vestamager (top).
Throughout the walk, reflections and prayers were offered that focused on the beauty of nature and the group's connectedness to it.
Also the reality of climate change and humankind's responsibility for taking better care of the Earth was part of the group's reflections.
The pilgrimage was a part of the Danish climate justice pilgrimage campaign (klimapilgrim.dk) and one of many walks in Norway, Sweden and Denmark taking place to draw awareness to climate change.
The walks will continue in the coming weeks, also through Germany, with many heading towards Paris, where the UN Climate Summit will meet later this year to negotiate a new climate agreement.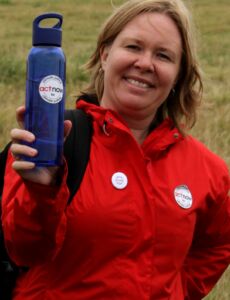 On all of these walks, a bottle of water (right) is carried and when possible a little more liquid is added to the bottle. The participants then end the walk by sprinkling the gathered water on each other as a blessing for taking better care of the Earth.
The walk was organised by the International Church of Copenhagen, St Alban's Anglican Church and the National Council of Churches in Denmark.
Klimapilgrim.dk supports the global campaign 'Act now for climate justice' (actclimate.org).