Pizza guys are not all the same. There are the traditional pizza delivery boys, and there is Michele Lucarelli.
This smiling Italian guy does not ring your bell to deliver a pizza in a cardboard box. Rather, you have to locate him and enter his front door, the flap of his 400kg cargo bike that reveals an oven where he prepares and serves pizzas. He calls the project 'Bike and Bake'.
Royal assent
Mostly active in Ameliehaven, he may not receive house calls, but he is the perfect neighbour. Just last month he gave a pizza as a birthday present to her majesty, and she sent him a thank you letter with the royal stamp, as this is how they do things in Amelienborg.

Lucarelli, 35, has been pretty busy over the last month, giving interviews to a host of Italian newspapers – including La Repubblica, Il Resto del Carlino, Il Corriere Adriatico and Il Mattino – and to several radio stations as well. All of them are extremely excited about the creativity of their compatriot abroad.
Homegrown recognition
Last but not least, he recently received the Medal of Civic Merit in Rådhuspladsen, from representatives of his Italian hometown, San Costanzo (Marche region), for exporting a special kind of pizza: 'Crescia d'la Stacciola'.
Between serving and pedalling, the Copenhagen Post Weekly caught up with Lucarelli to find out how his summer on the streets of the capital is shaping up.
How did you come up with this idea?
I have been baking pizzas since I was a teenager so I could be more independent while studying and travelling around the world. For two years I lived in New Zealand, where I discovered the spirit of adventure. I was working as a cook and I loved riding my motorbike and going from hostel to hostel to make pizzas for all the people there – just because I liked it. Then I started having ideas about making food on the road. In New Zealand I met my Danish girlfriend, and I followed her to Denmark.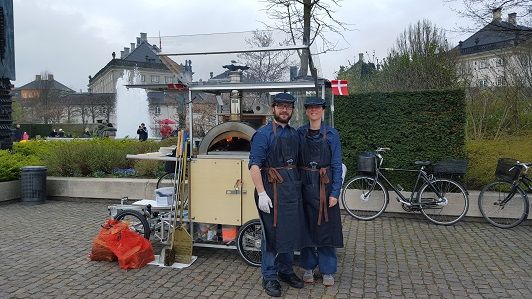 How did you start this project?
As soon as I arrived here, I grasped how much the use of the bike is a symbol of Danish customs. Since I wanted to encourage integration between different cultures – as culture is a process that evolves – I decided to bring and add my values and background to the Danish ones. This is how the project 'Bike and Bake' was born.
Why do you define 'Bike and Bake' as a multicultural project?
Although pizza has Italian origins, nowadays it belongs to everyone. From South Korea to America, it represents the spirit of aggregation and sharing. Indeed, my pizza-bike has no flags: I am a cosmopolitan open to cultural collaborations. The project is a mix of cultures: after lengthy research, I opted for an oven made in Sicily from volcanic stone, while the bike is designed in Copenhagen. It is the same with the ingredients I use. I went personally to the Danish farms that produce organic flour, organic milk for the mozzarella and veggies, while the oil and tomatoes are from Italy.
Tell us about your collaborations?
Crowdfunding not only helped me to raise funds, it introduced me to many supportive people who helped me for free with a website, video and logo because they believe in what I do. To me, this is already a big success as these collaborations became friendships. I've recently been contacted by a street artist asking me to work together, and this is what I am looking for. I am a street chef because I want to be in touch with people and promote different talents.
What's the ultimate aim of your project?
I started this project because it is a way to go beyond borders, and I want to do it not alone but with others, in order to fuel integration. I am moved by passion: a love of travelling and discovering new cultures.
If you want to know where Michele is today with his bike, or order a home delivery, check his FB page 'Bike and Bake'.