Situated at the trendy end of Istedgade, you'll find Vesterbro Vinstue, a petit restaurant that also doubles as a wine bar. Providing quality vino and Nordic cuisine dishes since 2011, a delightful evening by the light of its numerous candles beckons, but be careful not to play with them (what can I say, I have a weakness for wax) or the waiter will spank you!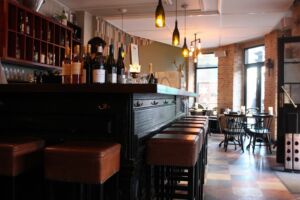 The surprises continue
The telling-off isn't the only surprise if you decide to dine there. Its six-course set menu changes every month, partly because the chef likes to play with ingredients and create new dishes, and partly to incorporate seasonal fare.
And don't be taken aback if you end up ordering at a great speed! We'd barely had a chance to read the first page, when our waiter boldly suggested our best choice was the set menu. I guess next time we'll see what the 'a la carte' was all about. But for now, we were firmly in his hands.
How do you eat this?
Sadly though, he went missing in action after serving us our crayfish. It's always struck me as a difficult task – I guess we should have read the 'Guide to Southern Living' before coming out. But then again, our neighbours at the next table were looking as surprised and as clueless as we were, which eased our embarrassment as we ventured on in the most adequate way we could think of.
Majestically presented, the crayfish was served together with the second course (which confused us a little bit), the herring with radishes, cucumber and rye bread – an impressive combination. After all that fish, we were ready for more!
A brisk bisque
Next came the bisque with buttered chanterelles. Made from savoury golden, wild mushrooms and homemade cheese, it was poured elegantly by our waiter from a metal jar. A foamy, creamy, warm soup, we devoured it in seconds.
And it was followed by the meat dishes: braised pork cheeks with smoked potatoes and oxtail cannelloni. The pork (which is cooked for 24 hours) was beautifully tender, while the aroma of the oxtail was exquisitely intense and so artistically presented it felt sacrilegious to disturb it.
Last, but not least, the dessert of Danish strawberries with meringues, cream and caramel was a crunchy treat in itself, but accompanied by a ruby port, it took us to a whole new level in appreciation.
Sip, Swirl, Swallow!
It was a final reminder of how well Vesterbro Vinstue knows its wine. All of its wines are self-imported and its menu is first-rate – a sentiment our waiter was quick to remind us about all evening, and it's fair to say that his recommendations could walk the talk.
Starting off with a glass of Jean Laurent 2008, this lemon and pear-flavoured pinot noir from the Champagne region lived up to the reputation of its manor. With a sparkling medium body, we enjoyed it before and during the first course.
Then came the Petri Riesling Trocken (2014), a German riesling that was paired with the pork and quote adorable.
And lastly, a special mention must be made of the Quinta Sardonia Qs2, year 2011 – a silky Spanish wine with hints of berries and cinnamon that is made from grapes grown organically in Castilla y León.
As our meal came to its closure, it was time to go home or get more wine … at which point the waiter made up our minds, not for the first time that night, by replacing our candle.