Restaurant Fridas might be the closest you will ever get to eating dinner at a Danish grandmother's place. They serve what the Danes refer to as 'mormor mad' (grandmother food), and believe me, that's a compliment.
The place was established as a bodega in 1954, but in 2000, mother and daughter Lene and Camilla Palmberg turned the place into a restaurant.
I was not surprised to find out the place is family-run. The homey feeling is in every detail, like the colourful leaded windows next to the bar and the many Christmas decorations.
The food is traditional Danish in a way only the older generations in a family seem to master. To stick with that thought, I imagine you're better off keeping your calorie counting at home, because grandmother's sauce is made using plenty of butter.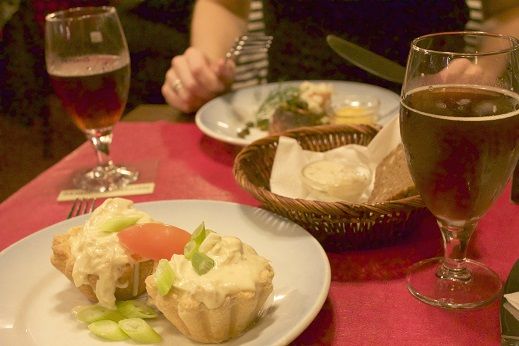 Packed with pensioners
For starters we ordered pickled herring with raw egg yolk, onion and capers on rye bread, and also tartlets with chicken in asparagus. The tartlets were great and creamy with a crispy patty shell. There were a bit too many spring onions for my taste, but that's a minor detail.
All in all, it was a thumbs up and very much like my grandmother would have made them – so no complaints!
The pickled herring on rye bread is one of the most popular Danish dishes – if you're going to a Danish Christmas lunch (or let's be honest, any Danish lunch/dinner), you will probably get a chance to try it. It is as traditional Danish as it gets.
Though located in Vesterbro, there's nothing hipster about Restaurant Fridas, but that does not mean the place isn't popular. It was packed on a Thursday night. At a quick glance around the room, I would guess the average age was 60+. The people who come here are not in a hurry; they take their time, enjoy their food and seem to be easily adapting to the homey feel of the place.
Smoothly does it
For drinks we quickly decided on beer, because it goes well with the rich food, and the restaurant gets its beer from Nørrebro Bryghus (brewery), which rarely disappoints. The only thing to bear in mind is that the beer is stronger than 'regular' beer.
We took the safe road, and went for the small ones (40cl), and as Camilla pointed out: we could try a few different ones. I started out with the Christmas beer, a dark ale, full and sweet with a 'secret' spice mix. My friend went with the Ravnsborg Rød, a full and fruity red ale. We were both happy with our choices.
Sweet on schnitzel
Before going I had read some great reviews of the restaurant's wienerschnitzel, so that was an obvious choice for one of our main courses. Apparently in Jutland, close to Esbjerg, they call it an 'elephant's ear', or so my friend told the waiter and me. He had never heard the expression, and neither had I. But I have to admit that when I saw my companion's actual dish, the nickname seemed to fit. It was huge.
I had the dish of the day, and although the lamb loin was delicious, I did feel a little food envy, but luckily there was more than enough for me to have a few bites of the schnitzel.
Trouser-splittingly good
One thing's for sure: you definitely get value for money at Restaurant Fridas. None of us managed to finish our main course. Not because it wasn't tasty, but apparently there is such a thing as too much 'potatoes and gravy'.
So sadly, I didn't get the banana split I had been eyeing on the dessert page since my arrival. It would have been the perfect way to end a nostalgic evening.
I will simply have to come back and visit 'grandmother' more often.