Trendy coffee shops are one of Copenhagen's best assets. You find them on every corner, but when there are so many options on offer, it's difficult to know which one to choose, right?
Well, don't get despresso, as we aim to bring you the top-notch spots – those that offer great quality and reasonable prices.
So if you're lacking in the caffeine department, your next stop should be Espresso Huset, where your soul will be filled by sweet Guatemalan beans!
The animated American
Located in the heart of Copenhagen, Espresso Huset used to be a nightclub and then a Ricco's, but it has now been converted by Yasin Gursoy and Chris Quintano into a cosy venue with the sole purpose of enjoying coffee.
"We wanted to build a hyggeligt place with awesome coffee and a genuinely friendly atmosphere where people feel comfortable," explained Quintano, who moved from the US to Copenhagen and manages the place.
And indeed it is. Filled with candles, comfortable couches and a vanguard retro style, you feel as if you were in your own living room. The staff are super-friendly, just like the energetic Quintano who is always ready for a conversation if you're up to following him around. In particular he may give you some tips and tricks on what's going on around town and crack a joke or two to cheer up your day.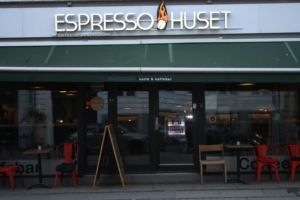 The dedicated Dane
Gursoy, the owner, is the Danish half of the duo. He was born in Denmark but, as he clarifies, he is half-Turkish due to his parents' roots. He might be still in his 20s, but he has been in the hospitality business as long as he can remember, and a year ago he decided it was time to set up his own business.
Being a coffee devotee, he didn't blink twice. "I found this place and jumped at the option," he enthused. And although he is the owner, he is restless and loves to be in every day, caring about every detail to make the best coffee he can for his customers.
Masters of art and coffee
Open from early in the morning, they will boost up your energy with their Guatemalan coffee, but will never cast aside the 'latte art'. Quintano explains it's not only about the coffee but also about the aesthetics, as it's better to have a coffee with a nice drawing.
"Even if there are a whole lot of customers, we deliver a good final product – we don't rush it," he said, explaining how he tries to master the 'latte art' by practising with YouTube tutorials and how he really takes care of the temperature of both the coffee and the milk in order to achieve perfection.
The beans they use are from Guatemala, which is known to be the country with the finest and most distinctive coffee in the world. When trying the coffee we could definitely appreciate the full body as well as the exquisite aroma and refined aftertaste. Like the saying goes: 'What comes after a cup of coffee? Another one'. And it was so good we had to have two, of course.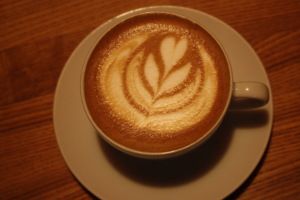 Delicious support acts
There are some things that must go together. Such as coffee with cake or a nice pastry or croissant. At Espresso Huset this deal will cost only 35 kroner. You might struggle to pick only one from the original American chocolate chip cookie, the cinnamon Danish roll or beautiful cheesecakes: Ferrero Rocher or a freshly-fruity raspberry one.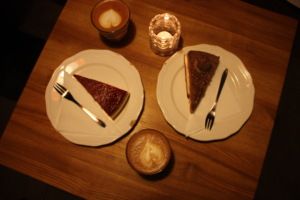 For lunch, or if you're craving something more powerful and savoury, they have the largest and most delicious fresh-made sandwiches which together with a carrot, ginger and apple juice can be enjoyed for only 75 kroner. Let me tell you that for the amount you get, this is a bargain!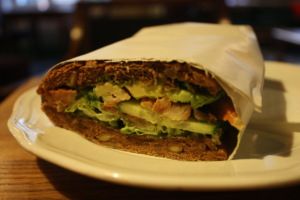 Among the options are tuna, salmon, chicken or ham. But according to Chris, the most popular is the one with avocado, mozzarella and pesto – an excellent homemade recipe. You can always ask for more or less ingredients and customise it – depending on your appetite.
All in all, there are few better places to have a coffee in the city centre – the perfect place to relax after a hard day's shopping. It's a place where you will get more than just coffee – you will get a smile!
Unless stated otherwise, the meals in these reviews are paid for by the venue