Australian food. Other than something about Vegemite and throwing another shrimp on the barbie, we don't know much about it.
But Australia has produced some incredible chefs and their ingredients are world-class – the reefs and coasts harbour some incredible seafood and there's lots of outback to farm everything else.
Eating around the bush
Copenhagen restaurant Reef N' Beef has been working with the best Australian produce for over 20 years – the menu includes little-known gems like wattleseed, riberry and bush tomato as well as top-class beef, kangaroo and crocodile. The kitchen operates a bona fide import business from the back door. How else would they find mountain peppers or finger limes in Copenhagen?
It's not just the menu that impresses, but what falls out when you open it. All the wagyu beef served has certificates showing the lineage and provenance of each animal served. Of every restaurant I've worked in or eaten at, this was the first that gave me the cow's family tree as well as its flesh. Reef N' Beef take their meat very seriously – and that's a good thing.
It's five o'clock somewhere
The drinks easily match up to the food offerings – a house cocktail with passion fruit, vodka and mango was tangy and not oversweet, and the imported Victoria Bitter is slightly fruity and definitely a hemisphere away from endless Carlsbergs or Tuborgs.
The staff knew the menu inside out and happily pointed us in the direction of some impressive older bottles of red from the exclusively Antipodean wine list to match our orders.
Crocodile? Done that!
Let's make this clear – there's a crocodile starter. As both my plus one and I have tried it before, we left the croc wonton with passionfruit and honey to try more of the menu.
The marinated salmon with wattleseed and mustard mayonnaise came as rich, silky tartare. The mayonnaise's slight oiliness was cut by fresh herbs, and the toasted brioche's crunch was a perfect foil for the yielding fish.
'Bush Bread' was satisfyingly chewy and spread with a subtle garlic butter. Rocket leaves and macadamias made it much more than just bread. Needless to say, neither starter lasted long.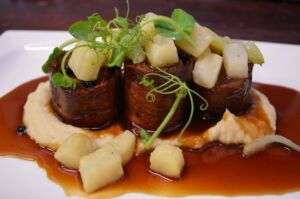 Wild thyme had by all
It's an Australian restaurant. We couldn't say no to the kangaroo – especially not when wrapped in cured ham and served with celeriac, apple and Tasmanian pepper sauce. The flavour was somewhere between beef and venison, and the leanness of the fillets meant it was served close to rare. It's definitely something we'll look for again.
The same native peppers appeared again in a sauce with my Australian-certified grilled ribeye steak, served with polenta croquettes, carrot puree and perfectly cooked, supremely earthy golden beetroot. The quality of Reef N' Beef's meat, and the kitchen's skill, showed in the charred crust, melting fat and perfect medium-rare ribeye.
The sides are a star act in themselves – including the best sweet potato fries I've ever had, dipped into tangy, smoky bush tomato ketchup. The stir-fried Asian greens with wild Aussie thyme were also a hit – perfectly combining Australia's increasingly Asian-influenced cuisine with the woody, floral fragrance of wild herbs.
Just desserts for Skippy
As a reviewer, you feel the need to try everything. No matter – the 'Death by Chocolate' plate features five different desserts in one.
A lime mousse and dark chocolate shell was zesty and refreshing. The tiny, perfect white chocolate pannacotta and brownie were divine – special mention to the pannacotta's slight wobble, taking me straight back to my grandmother making me jellies or blancmange as a child. Chocolate shortbread sandwich and an ivory white ice cream, almost soft-ice in texture, gave me the same childlike nostalgia. What more can you ask of a restaurant than to make you smile and feel cosy inside?
Strewth – it's a ripper!
Strewth, it was a ripper alright! No, not my waistband (although I wasn't far off by the time we left) but the whole experience. A clearly capable and imaginative kitchen and superlative front-of-house staff give Reef N' Beef a mixed feeling of comfortable hospitality and adventure that I'd never felt before.
It's definitely worth a try – as much for the future anecdotes about the time you ate a crocodile as anything.