For the first two issues of its new Diplomacy magazine, CPH Post interviewed three children of ambassadors to find out what it was like growing up under the bright lights of an embassy.
Life as the child of a diplomat can be isolating and full of uncertainty, putting a strain on friendships and forcing young people to adapt quickly to new cultural environments and languages.
But it can also provide experiences that stay in the memory for ever.
ANDERS NASH: 
In which countries did your parent serve?
We lived in the UK, India, Austria, the US, Sri Lanka and Nepal. My father then finished his career with postings in Afghanistan and Trinidad and Tobago, but we only joined him during our holidays, as we were 'grown up'.
What was it like to be a foreigner there?
Funnily enough, I always use the context of racism. We grew up much of our lives in countries where we would have been in the minority, but it genuinely wasn't until I moved back to the UK at the age of 15 that I first heard racist terms. The Asian groups of friends I had in England were feeling it all the time and all I could think was that I'd never encountered that in Asia – in their countries. When we were foreigners, we were protected – shielded. We lived a very privileged life and had a close-knit family. We even lived in Colombo, Sri Lanka at the height of the civil war, but being the kids of diplomats and living in the capital, we were never really aware of what was happening. We were young and lucky – our lives remained full of fun.
What life lessons could be learned from being the child of an ambassador?
I always look up to my father and, for that matter, my mother. People don't often realise it is the wives who make things tick. My dad worked and my mum fixed everything else. All the social events my dad was meant to host – she organised. And there was so much work. She organised the family – three kids. She organised our homes. Everything. Behind every good man …
As for our dad, the ambassador, one thing I hope I learned from him was a degree of humility. He didn't want to be called 'sir' or 'ambassador', he asked everyone to just call him Ronald. I loved that. I saw too many diplomats and their kids living on a different wavelength from local people. My father always taught us that you don't speak to people with less than you in that manner; you talk to them with the same respect that you would like them to pay you. And he genuinely meant it.
I grew up with the 'Indian family next door'. From the age of three to six, I was basically in their house, growing up with their son. I learned fluent Hindi – which of course I've subsequently forgotten! Another thing I saw that amazed me was returning to Nepal as a grown-up. It was over a decade after my father had been ambassador there, but everyone I spoke to still referred to him as 'His Excellency Ronald' and also to 'Ms Annie'. "Please send our regards, how is he?" they said. "Please thank him for what he has done for our children. Please ask him to visit us when he returns to Kathmandu for tea. Our home is always open." It showed me that his humility and kindness were timeless. He impacted people's lives and they were genuinely grateful.
What is the best story you remember from your time abroad?
When Dad was deputy high commissioner in Sri Lanka, his post covered the Maldives too. I will never forget him having to 'pop over' for work. And we were fortunate enough to join him. This was 25 years ago. It was pristine – an island with its own coral reef full of colour, fish and turtles.
I understand that much has now been ruined, and in just a few years it may not be there for people to appreciate at all. That our whole family could go there thanks to our dad – we loved it.
Who is the most famous person you have shaken hands with?
When I saw the news that Margaret Thatcher had passed away, it made me think of a very small but profound impact that the 'Iron Lady' had on my young life.
She was on an official visit to Vienna when my father was working at the British Embassy – I believe I must have been 9 or 10. One day there was a official BBQ. I think it was somewhere out of town. I remember that I had been naughty, which was out of character (!!), and my mother and father said I had to stay in the car. I sat there in a strop and remember a nice woman walking past with an entourage and asking gently what I was doing there. "What's your name young man? Wouldn't I like to join?" she asked. I said that I had been naughty and Mum and Dad had told me to stay in the car. She said "Come with me" and walked me to the BBQ. She marched me into that BBQ with the kind of assurance that one day I hope I may possess! It was 30 seconds in her life, but an everlasting memory in mine; my personal interaction was with a sweet, caring and dignified woman who took a young lad under her wing and made him happy.
In later years due to illness, she became a shadow of the woman she once was. But to me, she was never the Iron Lady – rather a kind and caring lady.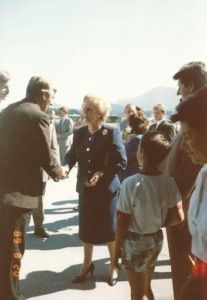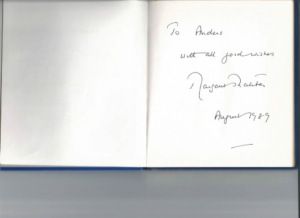 ---
CHRISTIAN GEELAN:
In which countries did your parent serve?
UK, USA, Estonia, Bosnia, Cyprus, Nepal and currently Hungary.
What country did they represent?
Denmark
What years were they active?
My mother is still actively serving in Budapest
How old were you when your parents were diplomats?
My mother has worked for the Danish foreign service my whole life, but became an ambassador when I was in my late teens.
Did you ever accompany your parents abroad? If so, what was it like to be a foreigner there?
Being half-English half-Danish, I was always somewhat of a foreigner wherever I went, so I never really had a problem with that. Living in the UK and US obviously came more naturally, as there was no language barrier, so that of course helped.
What life lessons could be learned from being the child of an ambassador?
Because of having to move every four years you learn to value who your true friends are – and to make the most of things in the moment. I think I was afforded a great insight into different cultures and the ways in which everything is tied together, and also how similar we all fundamentally are, in terms of wanting nothing but the best for our family and friends, no matter what our backgrounds, nationality or religion. I also think it gave me a deeper understanding of the complexity of governments and getting things done, which may be why I now work in the private sector, at least for now.
What is the best story you remember from your time abroad?
It would almost have to be moving to America as a 13-year-old, taking the QE2 from Southampton spending days at sea, and then coming into New York City, seeing the Statue of Liberty – to this day, one of the most memorable experiences of my life.
Who is the most famous person you have shaken hands with?
I would rather not say, but suffice it to say I have had the privilege of meeting many fascinating people!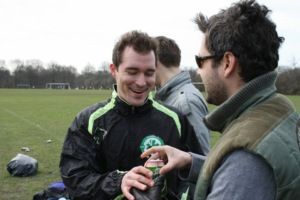 ---
ANTONIO CASCIAS:
In which countries did your father serve?
Belgium (where I was born), USA, Denmark, the Netherlands, Czech Republic.
What country did he represent?
Portugal.
What years was he active?
Antonio's father was Portugal's ambassador to Denmark from 1986 to 1991.
Did you ever accompany your father abroad? If so, what was it like to be a foreigner there?
It was a great experience living abroad. I didn't feel like a foreigner, yet naturally absorbed different cultures and lifestyles, with respect for the views voiced. Learning the basics from the local languages and making friends from diverse backgrounds was engaging and fulfilling and has contributed to the person I've become today; understanding that perhaps our approach may not be the optimum one.
What life lessons could be learned from being the child of an ambassador?
Life as a son of a diplomat is a very privileged one – and can at times be superficial. One should measure one's words prior to voicing them to avoid any misinterpretation.
Who is the most famous person you have shaken hands with?
Meeting Queen Mother Juliana of Orange-Nassau and her husband Prince Bernhard – their warmth and humanity were visible during that encounter. And José Ramos-Horta – at the time, his approach to achieving independence in East Timor through non-violence and the people's self-determination was inspirational. Later, he was awarded the Nobel Peace Prize.