A north Jutland chamber of commerce, Aars Handelsstandsforening (AH), has been grabbing headlines with what has been described as the country's ugliest Christmas tree, reports TV2 Nord.
Erected in the town square, passers-by were so offended it was announced it would be taken down.
Lick this Aars tree into shape!
But then allusions to saving its life in a Christian-like fashion swiftly ensued and it won a reprieve.
On December 1, some 120 children from a local kindergarten are going to give it a makeover.
"Bad advertising is better than no advertising," a spokesperson for AH told the TV station.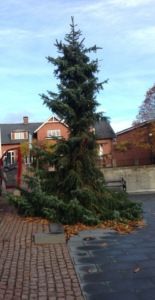 KU researchers most impactful in Denmark
Some 29 Danish-based researchers have been included on a list of the world's 3,500 most impactful scientific researchers compiled by Clarivate Analytics. Leading the way in Denmark was the University of Copenhagen (KU), which claimed the biggest share with over 40 percent. Broken down, KU accounted for 12 – of which seven were from its Niels Bohr Institute – Aalborg University seven and the DTU four. The USA, meanwhile, led the way with 1,661 of the 3,500 named on the Highly Cited Researchers List, followed by the UK (350) and China (237), while Harvard University (109), Stanford University (64) and Germany's Max Planck Society (47) were the top three institutions.
Football coach accused of acquiring pornographic photos of minors
Police have launched an investigation into a football youth coach attached to current Danish Superliga leaders Brøndby, BT reports. The 21-year-old is suspected of using Facebook aliases to ask 39 boys and girls from various clubs in Greater Copenhagen to send him nude pictures and videos, and it is believed he acquired 573 items depicting children aged 11-15 between 2015 and 2017. In related news, a priest from Tømmerup in western Zealand was last week sentenced to ten years in prison for sexually assaulting eight children between 2006 and 2016. In some cases, Dan Peschack had sex with the children.
READ MORE: Kundby 'jihad girl' gets six years in prison
Appeal verdict for Kundby 'jihad girl' due next week
A decision at the Eastern High Court is expected next week regarding the appeal of the Kundby 'jihad girl'. After being found guilty of attempted terror charges in relation to planned attacks on two schools at a court in Holbæk earlier this year, she was sentenced to six years in prison. Now 17, the girl could theoretically be released, win the right to a retrial, told to serve her sentence, or be locked away indefinitely. The girl has already spent nearly two years behind bars after being arrested in January 2016.
READ MORE: Danish priest charged with new cases of child sex abuse
Online outcry over 'emotionally abused' Kenyan woman
Online outcry in both Kenya and Denmark has greeted the death of a Kenyan national in Gentofte last week. It is claimed that Fridah 'Rashida' Shironya suffered great emotional abuse in the build-up to her death and that of her ten-month-old son, who it is believed Shironya killed before taking her own life. Shironya, who moved to Denmark in 2014 after meeting a Danish man working for a charity in Kenya, was experiencing marital problems, according to her friends, and some of her posts on Facebook were a cry for help. A post of hers on November 9 read: "Just because a person doesn't put hands on you, that doesn't mean they aren't abusive. Abuse is control, blatant disrespect, and also hurtful words."