Last Friday saw the first match of the 2015 Rugby World Cup as hosts England took on Fiji and won at Twickenham.
And while interest in the tournament won't be of massive interest to the Danish public, rugby union is now played by half the countries in the world – 102 at the last count – and this is reflected in the offices of the Copenhagen Post where seven of the competing 20 nations are represented.
We will be rooting for Ireland, England, Scotland, the US, Canada, France and … Uruguay, and when we can, we will be sneaking out to The Globe (Nørregade 43-45, Cph K) to take advantage of their English TV commentary courtesy of ITV and their current beer of the month: the Galway Hooker.
IRELAND



Let's not muck around with the flags – watching rugby is all about the emotion," enthuses Brian McKenna (left), the landlord of The Globe on Nørregade, ahead of his photo-call.
Until the end of October, his Irish pub will be a cauldron of rugby rambunctiousness, showing all the games broadcast in English by the likes of Britain's ITV.
"The game against France is a huge one for us," he contends. "Win that and we'll probably avoid New Zealand in the quarter-finals."
First ever advertiser
Brian and us go way back. Both founded in 1998, he was the first ever advertiser in InOut – for another world cup, the football edition in France.
An ardent Liverpool fan, Brian never really warmed to rugby growing up in Ireland, although he does remember "having the absolute bollocks knocked out of me by a massive Hungarian winger on a trip to Budapest with the Exiles".
Minutes away
Likewise, our columnist David Noel Bourke (right), the independent filmmaker, also tried his luck as a back as a youngster, but quickly swapped it for the backside option.
He recalls the 1991 World Cup when Ireland came "within a whisker" of beating the eventual champions Australia in Dublin. A late Michael Lynagh try saw the Wallabies home.
But don't worry, as Brian gave him what-for when he turned up at The Globe a few years ago. Although restricting him to Foster's all right was probably going a little too far.
USA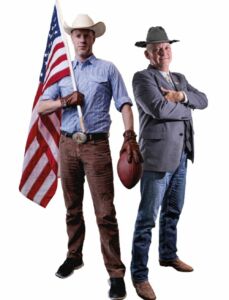 The Copenhagen Post's news editor, Christian Wenande (left), is the one who got away as far as the US rugby team is concerned, or at least that's the opinion of Ben Hamilton, his editor.
"Anyone who's seen him play football knows he's got the complete skill set for rugby," contends Ben. "Strength, aggression, co-ordination, ball skills, you name it. And besides, how good to you have to be to play for the US?"
Former world champions
After all, it wasn't that long ago they were champions of the world, or at least in a history of the universe kind of way.
Rather bizarrely, the US are the current Olympic champions, having won gold in both 1920 and 1924, the last year the sport was contested at a games.
Our journalist Ray Weaver  (right) is impressed, although as a huge gridiron fan he couldn't resist an initial dig: "Isn't rugby that dark bread that Danes eat?"
The everyman factor
Weaver has always like the 'everyman' aspect of the game.
"The ridiculous size of US football players makes it a game for elites," he concedes.
"Watching rugby, it's still possible to believe that any reasonably stout, strong, brave and very stupid guy could play."
With three wins from 21 games at six world cups, they're veterans well versed in the art of losing.
However, all that could change at the 2016 Olympics should sevens superstar Carlin Isles stay fit. The former track star is the fastest man in world rugby and could provide some fireworks if he sees plenty of the ball.
Who knows, maybe the US could defend their title?
URUGUAY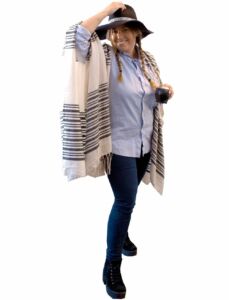 Uruguay are in the world cup, and not for the first time, as they also played in 1999, when they beat Spain in a conquered-conquistador revenge match, and 2003.
Given there are 20 teams and Uruguay are ranked 21st in the world, it's no fluke and neither was their qualification, in which they saw off Chile, Brazil, Hong Kong and Russia.
Eating to victory
Of course, none of those national sides have ever had to eat their way through the opposition (well, maybe Russia).
And given the difficulty of their group (England, Australia, Wales, Fiji … four of the top nine in the world, it's unlikely Uruguayan rugby is going to shake off the 1972 cannibalism in the Andes episode (retold in the 1993 film 'Alive') anytime soon.
"My parents' uncle and aunt died on that flight," recalled Luciana Duran, a friend from Montevideo who visited trainee journalist Ella Navarro in Copenhagen in August. "And it's still revered in our community. You shouldn't joke about it." Sorry, Luciana.
A gaucho's gumption
So instead of nibbling on her countrywoman's arm (like the editor wanted), Ella has dressed as a gaucho to cheer on her country, complete with the national drink, mate, which is traditionally consumed via an industrial-sized straw from a vessel that smells like old socks.
"I took what I had in my closet that could represent the Uruguayan gaucho in a modern style: a poncho, hat and the 'mate', which of course (I won't lie!) I borrowed from a friend, because I [mumbles] forgot to pack it when I came to Copenhagen," she said.
FRANCE


On a crisp spring afternoon in March 1991, Philippe Saint-Andre scored what would become known as the try of the century. It was the epitome of French flair: an audacious move that started behind their own line after a wayward English penalty.
But that day also demonstrated the tragic flaw in French rugby. They outscored their opposition by three tries to one, thrilling generations to come with their artistry … and they lost.
Rugby's nearly men
Imagine scoring a 147 and then losing the match. Because that is what being a French fan is all about.
Ever since the advent of the rugby world cup, they've mastered the art of snatching defeat from the jaws of victory. They're the only finalist to not lift the trophy. And they've been to three finals (1987, 1999 and 2011).
Which is strange as they can beat anyone on their day (just ask New Zealand!)
A man of two halves
Thanks to his French papa and English mum, trainee journalist Joe Morel has options beyond his inside out beret making a really good tea cosy.
"I remember sitting in the car listening to England win the 2003 World Cup on the radio and thinking 'that has to be my team', yet loving the famed 'French flair'," he recalls.
Heading into this tournament, although he was only too happy to don a stripy t-shirt (which he just happened to have at home), he's in two minds about who he will support.
"It's unlikely, but in the event of a France-England final, I'll be the one with a pint of cider in one hand and a champagne flute in the other, roaring 'God Save La Marseillaise'."
ENGLAND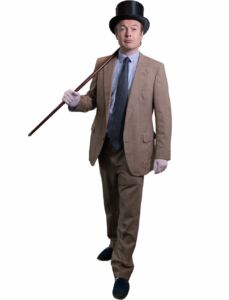 Apparently there are only two groups it's okay to discriminate against in England: the posh and people with ginger hair. Which explains why it's always open season on Fergie and Prince Harry.
"I was privately educated and get ginger sideburns," confessed Ben Hamilton, the managing editor and newspaper's England fan.
"But as a mockney who spent most of my 20s watching football and going to betting shops in Sarf-east London, I rarely experienced any inverted snobbery when I lived in England."
Rugger down the Globe
Still, Ben does enjoy a drop of Pimm's and bashing out 'Jerusalem' on occasion.
And he also likes rugby, but is adamant he has never been a rugger bugger who takes his totty to Twickers. Instead, he tends to go to the Globe, where he watched England win in 2003.
"From the support the Aussies were getting from the Irish, you would have figured they were playing Nazi Germany," he recalled. "But when we won, I think it slowly dawned on everyone that it was just as much a victory for European rugby."
Chip on his shoulder
Brought up on British bulldogs, Ben first played rugby when he was six and once scored three tries playing as a stand-in fly half when he was 13, but got shelved a year later when everyone else around him shot up.
It's a chip on his shoulder he carries around to this day, along with the one about occasionally being called 'posh' by common folk and frequently being called 'common' by his family.
CANADA


If it doesn't involve ice, Canada might as well forget it. At the 1976 Montreal Olympics, the hosts failed to win a single gold, and at their only football world cup in 1986, they couldn't score a single goal.
But at the Winter Olympics, they reign supreme – the 14 golds they won at the 2010 games was a new world record. How they must pray for another Ice Age.
Change of strip needed?
Still, our trainee journalist Luisa Kyca, is not impressed.
"No skates, no stick, no puck – can Canadians even play a sport that does not involve an ice rink and being played at -25 degrees outside?" she asked angrily.
Luisa's father is Canadian but she grew up in Germany, so maybe all that Teutonic pride in her country's football prowess has gone to her head, or is it just the feeling of dressing up?
"Wearing a Mountie costume made the maple syrup in my blood freeze," said Luisa. "I felt so powerful and I am still considering dumping journalism for a horse to bring safely over the Rockies instead."
Spanking the Yanks
To be fair, Canada are pretty consistent at rugby, but unfortunately that's consistently mediocre. They've played at every world cup since the inaugural tournament in 1987, but only once made it out of the group stage.
But very importantly, they rarely lose to their neighbours. Going back to 1980, they have a 36-1-12 supremacy. Of course, most of the games take place at -25 degrees, but in Canada, that's what you call ideal playing conditions.
SCOTLAND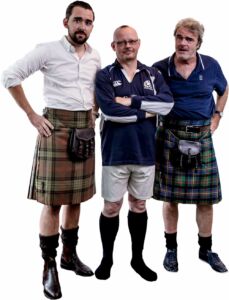 What if we told you that two of these brave Scots had the rugby madness gene? You'd go for the ones in the kilts, wouldn't you?
And you'd be wrong as our journalist and business editor, Philip Tees (left), never really took to rugby as a schoolboy.
"I played rugby, but not very well," he reveals. "My regular position was on the subs bench. So when events like the Rugby World Cup come along, I get to use a skill I've been training since a young age: watching rugby from the sidelines."
Which leaves Jim Lind (centre), our distribution manager, and actor Ian Burns (right), our longest-serving columnist, who both (you've probably guessed by now) used to play full back.
However, in Jim's case, there was nothing worse than being in the middle of a scrum, which he had to do when his side's hooker got injured.
"Guys grabbing handfuls of my skin as well as my shirt, being kicked, sworn at, scratched and crushed … that was just from my own team!" he remembers.
Haggis the immortal
But above everything – "6am walks in the cold ", "hoping the ground wasn't going to be frozen" and "away games singing traditional rugby songs full of innuendos as loud as we could" – Jim will remember Haggis the best. And no, he's not talking about the half-time snack.
"Haggis was the biggest guy in our rugby team. And while he was the slowest, if he built up momentum, he was formidable. It wasn't unknown for opposing players to run out of his way. I remember watching him run 15 yards with one guy hanging onto his waist and another on his left leg.
Jim will never forget one particular Saturday.
"Soaked to the skin, freezing and covered in mud, looking over at a pile of bodies and hearing these immortal words yelled from the bottom of the heap: 'Get aff ma fukin' heid ya bastard!' Haggis!"
Thin and boney
Ian recalls a few choice words being fired in his direction over the years.
"People hated being tackled by me because I was so thin and bony," recalls the that theatre founder, who played for a team that for five years wore all-black kits and were unbeaten (sounds familiar somehow).
One game in particular stands out. "We once played a very exciting 0-0 game against a hairy sixth form team when we were fifth year comprehensive oiks," he recalls.
Looking forward to the world cup, Ian is realistic about Scotland's chances, but hopeful there will be a few moments to savour along the way.
"Being a Scotland supporter of anything is emotional, noisy and very colourful," he says.
"Joys and heart-aches – just like life."