Hello Heritage, a three-day festival that is part of the history and culture event Golden Days (see page 10), is an entire weekend dedicated to visitors and expats.
With more than 30 participating museums and cultural institutions taking part, and more than 40 talks, concerts, city walks, guided tours and other events, Hello Heritage offers a unique insight into some highlights of Danish art, history and culture.
We have hand-picked some of the events not to be missed.
---
Humorous history of the Danes
Revue Museum (Revymuseet), Frederiksberg; Sep 18, 14:00; tickets 50kr, concessions 50kr, children free adm

A guided tour of the 160-year history of the Danish comedy and satire speciality, the 'Revy' – a kaleidoscopic mix of political satire, chorus girls, songs and slapstick.
---
SMK Fridays # 16: Hello highlights!
National Gallery of Denmark (Statens Museum for Kunst), Sølvgade 48-50, Cph K; Sep 18, 16:00-22:00; free adm
SMK holds some of the most important art pieces in Denmark. However, what defines a masterpiece? In what way does an art piece obtain outstanding, national and cultural importance – and for all time as well? Join in at questioning the masterpieces found at SMK, as we probe timelessness, the greatness of the arts and strokes of genius.
---
Make your own smørrebrød
National Museum of Denmark (Nationalmuseet), Ny Vestergade 10, Cph K; Sep 19 & 20, 13:00-15:00; tickets 150kr, billetto.dk; max 60 persons
Make your own smørrebrød, taste the best products and hear the history of the traditional cold table – this must be enjoyed with a cold beer and a glass of schnapps!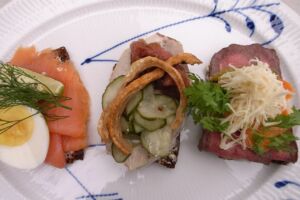 ---
Christian IV's Copenhagen
Museum of Copenhagen (Københavns Museum), Vesterbrogade 59, Cph K – meet at Gammeltorv by the fountain, finish at Royal Library; Sep 19, 14:00; tickets 50kr, billetto.dk
Christian IV was an innovative and energetic king whose presence is still felt today. He helped to transform the city into a European metropolis. Join us on a guided tour of Christian IV's Copenhagen and discover how it changed.
---
Best of Danish art in an hour
The Hirschsprung Collection (Den Hirschsprungske Samling), Stockholmsgade 20, Cph K; Sep 20, 13:00 & 14:00; tickets 75kr; max 25 persons
Enjoy 10-minute meetings focusing on the highlights of the collection: Eckersberg, Købke, Lundbye, Krøyer, Ancher and Hammershøi. It's everything you need to know about Danish 19th century art in just one hour.
---
The Food, the city and the people
Museum of Copenhagen (Københavns Museum), Vesterbrogade 59, Cph K – meet at corner of Gl Strand and Naboløs Finish, finish at Royal Library; Sep 20, 14:00; 50kr, billetto.dk
New Nordic cuisine is more popular than ever. But which foods are typical for Copenhagen? Join us on a culinary tour through the city, and explore local food traditions.
---
Find out more at cphmuseums.com.