I'm standing in front of a tiny scrap of an airport, my legs shaking from the miserable 8ºC rainy weather combined with my first-ever ride in a propeller-driven plane.
Blue ink is blurring across the damp, yellow Post-it note on which I've written the name of the hotel I am supposed to sing at for the summer.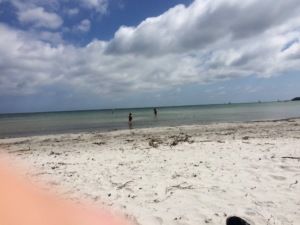 An American idiot
When I left Nashville the day before, it had been over 30ºC, and my pals and I spent the day allegedly fishing but mostly drinking beer on a lake – this was the send-off to my great European musical adventure.
So here I am: an American with too much luggage, a guitar across my back, ready to rock. Except I have no clue how to get to where I am supposed to be. The fading ink on my note looks something like "Randy skunk".
When I landed in Copenhagen an hour before, I had asked the girl at the information desk where I could get a taxi to take me to Bornholm.
I am supposed to play in Denmark, and Bornholm is in Denmark – hence, my belief that the end of 17 hours of travelling was now just a taxi ride away.
The fact that Bornholm is an island that rests in the Baltic Sea some 180 kilometres away from Copenhagen had not even entered my consciousness.
The girl kindly pointed to the remaining boarding card in my ticket envelope and waved me in the direction of the domestic terminal.
I walked out onto a tarmac landing strip for the first time in my life and climbed aboard a crate that looked like it hadn't been in service since Bogey and Sam played 'As Time Goes By' for the first time. In fact, I sort of felt a little like Bogart climbing up onto that old egg-beater.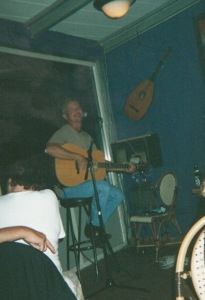 The cat in the hat
When I finally reached Bornholm, one of the two taxi drivers standing in front of the terminal ambled over to me and asked in very good English: "Are you the man singing at the hotel in Randkløve this summer?"
"Uh … I guess …"
"Well, c'mon then," he said. "The boys have paid your fare."
'The boys' were Peter and Thorkil Vesth, a musical duo of Danish brothers who had recorded at a studio I worked at in Nashville. We hit it off, and they asked me if I wanted to spend the summer singing at a hotel they had in Denmark.
I gave them my address and home telephone number – these were the days before the internet and mobile phones – and figured I'd never hear from them again.
To my surprise, a ticket turned up in the mail a few months later … and here I was, wherever the hell here was. And by the way, taxi driver, how exactly did you know who I was?
"The boys told me to look for a cowboy. You may be the first person who has ever come to Bornholm wearing a cowboy hat," he said smiling.
I'm no cowboy, and I don't normally wear cowboy hats, but a big part of the reason that the brothers were having me over was the novelty of having a format Nashville act play at their hotel.
They wanted the full regalia, and the only effective way to travel with a cowboy hat is to wear it.
No matter how dopey it looks.
As we pulled up in front of the hotel, my hosts ran out, handed me my first Danish beer and said: "Welcome to Bornholm. Welcome to the party."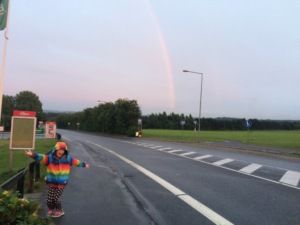 And what a party it was
I didn't sing that night, but I watched the brothers do their show.
They sang, told jokes and switched seamlessly between Scandinavian languages, German and English, fully entertaining the tourists from Sweden, Norway and Germany that make up the bulk of Bornholm's summer visitors.
Some families had been returning to the same summerhouses on the island for decades.
Bornholm is a well-known tourist destination in Europe, but it remains virtually unknown to Americans. And the brothers were right about my novelty: I only saw one other Yank that whole summer.
The morning after my arrival, I watched the sun rise over a field of yellow rapeseed flowers that stretched a kilometre down to an emerald sea that was throwing white foam against black granite rocks.
I walked down to the cliffs and past a battered wooden sign pointing towards Randkløve Skår, a natural cleft in the cliff face where the sea rushed in, creating crystal pools in which people were swimming.
A few kilometres off to the left, I could see Gudhjem, a village that I would grow to love in the days to come.
Café Klint, at the harbour, became my home away from home – I wrote postcards while listening to seagulls and a multitude of new languages swirl around me.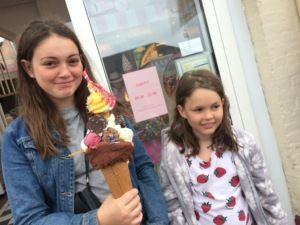 Unbridled beauty
The natural beauty of Bornholm reminded me of images from two books.
One was a child's picture book about space exploration that I had read when I was at school. There was an illustration of a rocket rising into a cobalt-blue summer sky that faded into the starlit blackness of outer space.
It was an artist's vision, not a photograph. There was no reason to expect that I would ever actually see a sky like that. And yet, one June evening while I sat on the porch of my hotel on Bornholm, I watched a midnight-sun blue sky fade into a canopy of stars, and that picture was brought to life.
The is 'The Talisman', a fantasy novel co-written by Stephen King and Peter Straub. Jack, the young hero of the tale, flips back and forth between the real world and a parallel world that is sort of like the real world once was when kings, queens and knights prevailed.
In this alternative world, the air is cleaner, the water fresher and everything is natural and rustic. Magic is still possible. And that is Bornholm. Real, but if there are trolls and fairies still living anywhere in the world, they are undoubtedly deep in Almindingen Forest.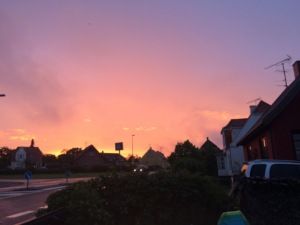 Life-changing
I was supposed to stay on Bornholm for two months that first summer. Once the sun came out on my second day there, it barely rained again for the whole 60 days.
Then I met a woman. I fell in love with her and our island, and ended up staying for … well … we are celebrating our 20th anniversary this year.
I ate smoked herring in Allinge to the north and hiked up to the ruins of Hammershus castle.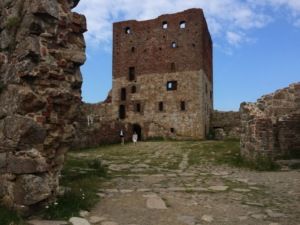 I discovered Snogebæk to the south, a tiny village with Greek-style fishermen's shacks and local restaurants tucked between the picture-perfect beaches of Balka and Dueodde, where the sand is so fine that legend says it was once used in hourglasses.
I went shopping in Bornholm's capital city Rønne as well as in Svaneke, which is filled with shops selling locally-made products and a harbour where people buy the catch of the day.
I can't promise you that endless sunshine or romance awaits you on Bornholm, but I originally went there to make some cash and sing a few songs – and I wound up with a wife, children and a whole new life.
That's a pretty good holiday.