Inspired by #LetsRethink – the theme of Aarhus 2017: European Capital of Culture – the VIA Design Show is among the many participants at Copenhagen Fashion Week. In fact, its show kicked off at 10:00 today at CIFF.
In line with the theme, the show, which also took place in Aarhus on January 26, will illustrate how fashion can also be rethought.
For Ingrid Søe, the director of education and research at the VIA Design school, this means the fashion industry needs to move towards sustainable collections: "It is difficult to find something completely new in the world, so everything is about how to combine and how to redo things."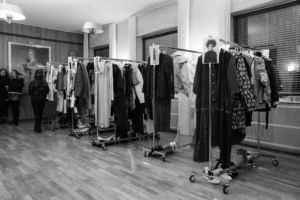 Creating fashion inspired by their roots
The ideas related to rethinking fashion couldn't have been more diverse in the show. The 18 designers combined materials and patterns in unique ways: Scandinavian clean cuts with Palestinian stitcheries, and genderless designs with flowery prints and pink quillings are just two examples of the broad interpretation spectrum. All collections were a proof of creativity and individuality, inspired by the graduates' social and cultural backgrounds, life experiences and passions.
Especially striking were designers Pavel Vlodarski and Aleksandra Lad, whose designs were influenced by their Polish origins. While Vlodarski took the death date of Pope John Paul II as a recurring element in his design story about challenging conservative politics in Poland, Lad combined Communist details with a gaudy 80s style.
Mixing different roles at once
Taking a closer look at Lad's pieces, one notices a bizarre mixture of materials, elements and colours. Plastic meets wool, a strong red is combined with grey, sporty meets chic. Moreover, the outfits show recurring elements that are usually associated with hospitals: stitches resembling sutures, plastic gloves, a square pattern that is reminiscent of tiles and the text 'SALA CHORYCH'. The latter is the theme of her collection, Polish for 'hospital ward'. She describes how she could draw upon her own experiences in Polish hospitals which, though a bit rundown, have not changed much since Communism. These impressions she later combined them with sporty loose cuts known from the 80s.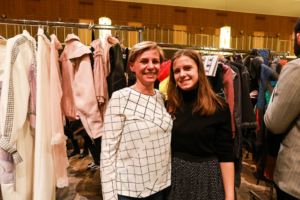 Her collection can be described as an expression of her own personality and passions. Lad defines herself as a creative person: "I love to explore the world, learn new things and communicate my impressions by using them for my fashion designs." This is what she likes most about her profession: it gives her the opportunity to slip into different roles at once, as an explorer, an historian or a even a scientist.
Looking for challenges in the insanity of life
"My collection is meant to provoke and celebrate the absurdity of life," assures Vlodarski. He interpreted this year's VIA Design theme mainly as a rethinking tradition by creating a quirky, spontaneous and nostalgic collection, thrilling the audience with bizarre patterns, prints and stitcheries. "The collection is called 21:37, and that's the time when the Polish Pope passed away. The collection itself is a science-fiction story that relates how the Pope dies and travels to space to save the Catholic nation," explained Vlodarski.
"The Polish Pope was a symbol of Catholicism, tradition and conservatism. My collection is supposed to make fun of it and set an example against conservatism." Vlodarski's current collection is a wild mix of different materials like towels, raincoat fabric, fake fur and fake leather.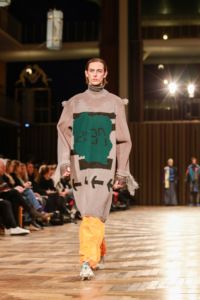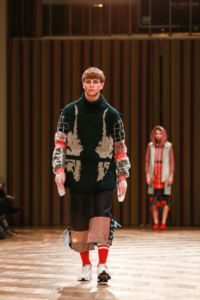 The most elaborated and time-consuming piece of Vlodarski's collection is a colourful jacket, AKA 'John Paul II's space suit', since it is based on pure handcraft. Vlodarski describes his masterpiece as funny and pretty at the same time. While the cross stitches on the jacket are reminiscent of the traditional Polish way of decorating houses and furniture, the crazy colour combinations were inspired by Poland's colourful billboards, buildings and fences that clash rather than match one another.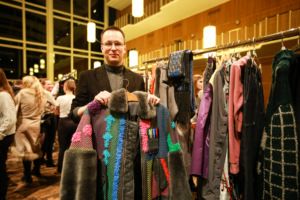 Why study fashion in Denmark?
Both Lad and Vlodarski came from Poland to study fashion in Denmark. For Lad, two arguments were convincing to pursue this path: "Denmark is a great country for creative people; their way of clothing is cool, and their aesthetic sense is distinctive. In addition, their level of education is high, and the equipment of the VIA Design school is outstanding."
Vlodarski, on the other hand, always sought to study abroad. His decision was influenced by that deep-set desire, famously called 'wanderlust', and the unique concept of the VIA Design School in its combination of business and design.
---
VIA Design, based in Herning, has an interdisciplinary approach to teaching fashion design. Combined with lectures in business and material technology, the program prepares students for establishing their own brands and gaining a foothold in the competitive fashion industry.
The Aarhus VIA Design Show took place on 24 January 2017. You can see all of the designs here. 
Writers Nicole Goszczynski and Katja Scheibler run the online magazine: The Fashion Lens. Follow them for more fashion stories. 
This story was originally published as part of Jutland Station's Aarhus 2017 coverage. Jutland Station is an online magazine covering stories in the Jutland region.