This man learned 11 languages in three months," the Google ad proclaims. And it's true: with hyperpolyglots comes a lot of hyperbole. You click on the link and discover they were all related to two he already knew. And none of them were Korean!
In the case of Sofie Brodersen, an Aarhusian polyglot who already spoke five languages, her mastering of the East Asian tongue was more than another notch on her lingual ladder, it was a necessity.
Her husband, Stig, is a Korean adoptee, but doesn't speak the language, and this motivated Brodersen to start browsing YouTube for online learning materials.
Once she started, there was no looking back, as textbooks were ordered and her original incentive to help hubby soon became a secondary one.
"In the beginning I wanted to learn the basics and teach them to him as well, and I did succeed in teaching him basic phrases," she told the Copenhagen Post.
"But I've mainly learned Korean for myself!"
Contest winner, media star
It is no exaggeration when Brodersen professes to having a "love affair" with the Korean language, and this really blossomed last year when she won a speech contest organised by the South Korean Embassy in Denmark.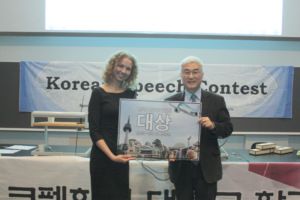 "I fell completely in love with Korean, there is no doubt. It's an ongoing love affair" she said.
The success brought her unexpected fame in South Korea as the Danish woman who had learned the language to teach her husband. The mainstream media – including the Yonhap News Agency, the Chosun Ilbo and the Korea Joongang Daily – jumped on the story, generating traffic for her blog, sofietokorea.com, where she shares her tips for learning Korean.
The turnaround
Brodersen has always felt strangely drawn to South Korea, and ahead of the couple paying their first visit to the country together in 2014, she was the driving force.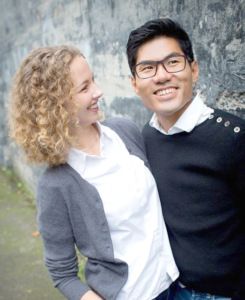 "Since I love my husband, of course I was interested in his background even though he didn't find it very significant," she said. "He didn't really have this wish to go – he wasn't that curious. I sort of talked him into going."
Her husband had previously been there when he was nine, and it left a less than brilliant impression – possibly because he and his family mostly stayed in the countryside.
"I think he was a bit biased that they eat nothing but kimchi soup and rice – even for breakfast," she joked.
"But he soon realised Seoul is actually super cool and very modern. He didn't really remember any of that. And he was just: 'This is so amazing, I love being here and I could see myself living here,' so I said: 'Why don't we?'"
Brodersen has since landed a job in Seoul working as an exchange professor from Aarhus University. She starts in August, and her husband has even changed his tune about learning the language, stating he intends to learn it when he arrives.
A different culture
Brodersen has observed many differences between Denmark and South Korea – particularly the way life is so fast in the Asian country, but people still managed remain friendly and kind.
"It's not that Danish people are rude or anything, but I really felt that Korean people go that extra mile to make the others feel comfortable … and I like that a lot," she said.
But despite the contrasts, Brodersen knows she is making the right decision.
"In a strange way even though it felt completely different from anything that I was used to," she said.
"It just felt like home."