A child with ADHD is a disruptive force in the classroom, concludes popular thinking in many Western countries. Medicate and the problem will go away.
In Denmark, this can also be a cheaper option for the state, as children with a diagnosis will often receive extra support to navigate the challenges of their school day.
An interactive friend on the wrist
A 2014 master's thesis written in Copenhagen, which has spawned the Danish tech startup Tiimo, suggests children with ADHD can enjoy a normal school day by wearing a smartwatch – without or in combination with medication.
Tiimo's app comes in the form of a visual calendar – using icons, small vibrations and time management – which provides structure, overview and independence to the wearer.
It serves the function of an interactive friend and is beneficial to children with a wide range of special needs beyond ADHD, including autism and brain damage.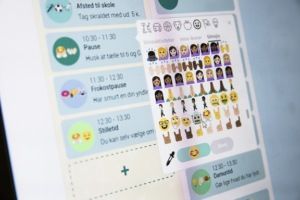 Multi-million kroner investment
Investors have been quick to back the enterprise with millions of kroner in funding. Among them is the Market Development Fund, innovation incubator Capnova and also private investors, such as Steen Ulf Jensen, the founder of Boxer TV.
"I have invested in Tiimo because it is a purpose-driven company with high international growth potential for this target group and other people who might have the same needs," Jensen explained.
Thesis that spawned a startup
The app's back-story began in 2014 when Helene Lassen Nørlem and Melissa Azari, two digital design and communication students at the IT University in Copenhagen, chose to base their master's thesis on five families with special needs children coping with the challenges of school – a hot topic in the media at the time.
"There was this big focus on all these children who would lose some of the personal support they had. So we thought it was super relevant to investigate if we could find new ways of supporting them and think technology into this," explained Nørlem.
READ MORE: Teachers feel unprepared to deal with special needs students
"When we presented the concept of Tiimo to the families, they were all so enthusiastic about using our solution. We simply felt we had to keep developing it. The users have been a big part of the design process and development of the app, which was important to us."
Ready to launch
Following rigorous testing on 50 families over the last 18 months, Tiimo is ready to launch the product via android and IOS in Denmark this month, with a view to taking it to the rest of the Nordic region and the UK next year, and afterwards the US.
"We are going to focus on reaching out to schools, municipalities and families in 2018, so the capital injection is really well in line with our plans this year," ventured Nørlem.
"We need to strengthen our team and hire some new people, so we can make a lot of noise about Tiimo. We are so excited, and I feel confident that 2018 is our year."
Initially available for free for the first month, the app will cost 79 kroner per month via subscription.
READ MORE: More help for special needs kids