When Pascar Sivam and Vasilij Brandt sat down to come up with a strategy for their newly-founded watch startup, Nordgreen, crowdfunding was at the forefront. But they had no idea how much of an impact that would make!
Less than a year later, they found out.
A modest campaign goal of 100,000 kroner on Kickstarter ended up netting close to 1.5 million kroner – making it the biggest fashion crowdfunding campaign in Danish history, as well as a top 10 fashion Kickstarter brand in Europe.
"It was amazing. We spent six months getting it ready, with our focus being on design, marketing and operations, but there were a lot of things to consider – we didn't even know if the campaign would work" Brandt told CPH Post.
"We were pretty much in the dark as none of us had done a Kickstarter before. It ended up being a huge proof of concept and a strong indication that we were on the right track. We were led by designer input and a lot of customer feedback – a road I would recommend most to follow. It put us on a path to success."
Bursting through
Designed by the award-winning Danish designer Jakob Wagner, who has previously worked with the likes of Bang & Olufsen, the watches attracted customers from across the globe – they had sold over 2,100 watches to customers in 66 countries by the end of the campaign. Their success, however, has brought a number of challenges, including that of logistics.
According to Sivam, in order to keep up with the overwhelming demand, Nordgreen has set up 14 localised web-shops that cater to 60+ countries in eight languages and 12 currencies, while operating across multiple marketplaces, such as Amazon. Each territory is run by a central team in Copenhagen by locals, with only the best-of-the-best being recruited. Despite the right steps being taken, it's not easy breaking into an established market like the fashion watch category.
"It's definitely not easy as newcomers. It's very competitive online and rising up above the noise is difficult. We really thought about how we could bring a unique proposition to the market, settling on being a true Scandinavian brand. Danish design, yet affordable," said Sivam.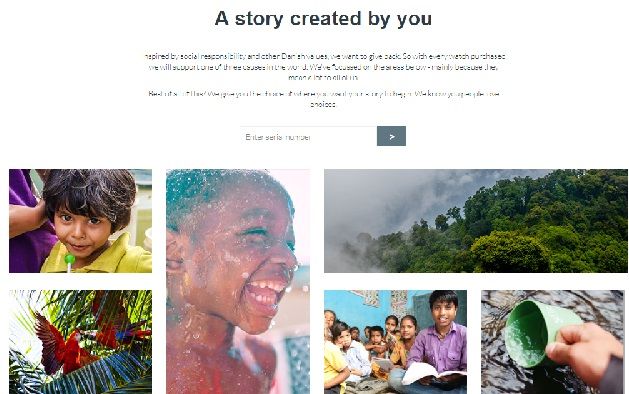 On the CSR clock
Nordgreen is particularly proud of its CSR (Corporate Social Responsibility) program, which allows pledgers to support one of three causes when purchasing a watch: clean water provisions in Africa, rain forest protection in South America, or youth education in India.
Customers can type in the serial numbers on the back of their watches to track the impact of their donation.
"We did a lot of research into what sustainable really means and how we could centralise it within the brand. We identified the three causes as having fundamental elements that were relevant to modern day, global issues. Additionally, with sustainability being at the core of Danish values, our CSR initiative is close to our hearts, so it means a lot to us to do it right," said Brandt.
The crowdfunding campaign included three watches: the 'Philosopher', the 'Infinity' and the 'Native', which all boasted a stainless steel case, diamond cut hands and an Italian leather strap. They are all assembled by hand, water resistant, and come with a two-year warranty.
Currently, the team and Jakob Wagner are working on a new Chronograph collection, a male focused range – although they also have a female-centered collection on their roadmap.
Check out Nordgreen's webshop and read more about their background here.