Charlie Uldahl Christensen has been walking a lot over the past year and a half. In fact, that's about all that he's been doing for the past 550 days, and all he will be doing for the foreseeable future. And it's all for a good cause.
Since May last year, the young Dane has walked tens of thousands of kilometres from Esbjerg in west Jutland on his way to Tanzania in east Africa – all part of Walking for Water (W4W), an effort to raise awareness and funds to tackle water-access problems in developing nations.
"On 18 May 2015, I freed myself from my job, my apartment and most of my possessions and started walking from my home town of Esbjerg in Denmark to the village of Lengasti in Tanzania on the east coast of Africa," Christensen wrote on walkingforwater.dk.
"In Lengasti, thousands of people are forced to walk a long way to the nearest water source. The poorest of them risk the lives and health of themselves and their children by drinking contaminated water from nearby mudholes."
Christensen has travelled through 11 nations so far. He is currently in Dakar, Senegal after making his way through Denmark, Germany, the Netherlands, Belgium, France, Spain, Portugal, Morocco, Western Sahara and Mauritania.
He still has 18 countries to go before he reaches his destination: The Gambia, Guinea Bissau, Guinea, Sierra Leone, Liberia, Ivory Coast, Ghana, Togo, Benin, Nigeria, Cameroon, Equatorial Guinea, Gabon, Republic of Congo, DR Congo, Burundi, Rwanda and Tanzania.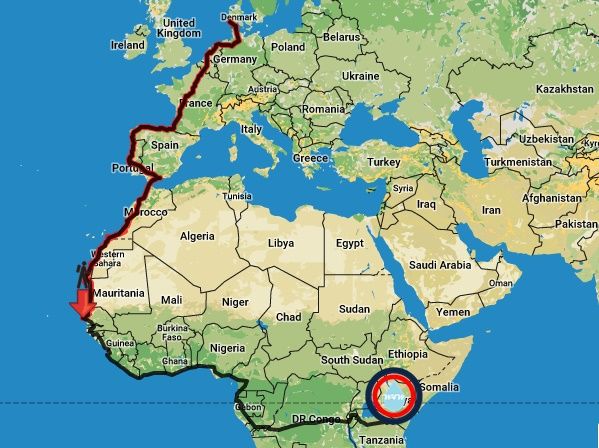 Along the way, Christensen has made himself available for local and international media in order to best promote his awareness efforts. Recently he was interviewed on Senegalese TV, but he has also appeared on TV in Portugal, Morocco, Spain and Denmark, and also on Al Jazeera and Lonely Planet, among others.
Christensen came up with his plan after spending time in Tanzania working at an orphanage in Lengasti. It was here he witnessed first-hand how far people were forced to walk every day to fetch water to sustain themselves.
He continues to search for private and company sponsorships to aid him in his travels and help him to better deliver and spread his message.
According to the UN, over 748 million people do not currently have proper access to a source of drinking water. An estimated 842,000 people will die each year as a result of unsafe drinking-water, sanitation and hand hygiene.
Christensen estimates that the entire 18,000-plus km trip will take around three years to complete. According to his calculations his arrival time in Lengasti will approximately be sometime in May 2018.
"The symbolism is that I walk so they don't have to," Christensen  said.