The Copenhagen Towers are the champions of Denmark once again.
On Saturday the capital's premier American football side beat their arch-rivals, the Søllerød Gold Diggers, to claim their third Mermaid Bowl in five years in front of a crowd of over 2,500 at Harboe Stadium in Slagelse.
As the 20-7 score-line might suggest, it was a rain-soaked affair, but not even the weather could stop the Towers.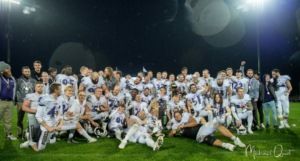 By air, land and water
As the club's official write-up noted, the Towers "scored once on the ground, once through the air and once on defence" – so it was pretty much a complete team performance.
Linebacker Sverri Finsson and running backs Michel 'Junior' Konate and Dayton Winn – the league's MVP for 2017 thanks to an average of 12 yards every time he ran the ball, who sustained a broken nose in the victory – scored touchdowns to race into a 20-0 lead.
Broken nose and opposition 
Leading the way on the day was Towers safety Magnus Bitsch, who was named MVP for a performance that included two interceptions.
In total, the Towers have now won seven Mermaid Bowls, and this was their ninth final appearance in total.