Regular readers might remember a piece CPH POST published about 'Bakerman', a new home-grown, independent movie filmed in Denmark by the Irish director David Noel Bourke, which has been described by reviewers as a Nordic 'Falling Down' (see video below).
Now, following some lengthy touring on which the film has picked up several awards – including Best Foreign Feature Film at the Maryland International Film Festival and the Best Male Actor award for Mikkel Vadsholt at the Nordic International Film Festival – it has been officially released via Vimeo.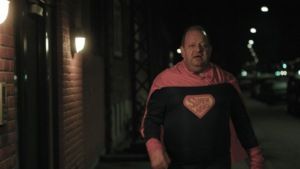 Streaming via an indie site
We caught up with Bourke, who as a former CPH POST columnist shared his experiences as an independent filmmaker determined to fulfil his vision without the interference of major studios, to learn more about how the film has been faring, and it has mostly been good news.
According to Bourke, he chose to release 'Bakerman' on Vimeo, as opposed to Netflix for example, because the indie streaming site "directly supports filmmakers" and "this is so healthy for us to survive".
READ MORE: Boss in translation: the foreign filmmakers who make movies in Danish
Aalborg cinema release possible
Nevertheless, 'Bakerman' might get a cinematic release – in Aalborg. Fans of homegrown actor Mikkel Vadsholt have demanded it at a local cinema and Bourke is "unbelievably in discussions" about arranging some screenings.
Some people have perhaps downloaded the film for the wrong reason. One thought it was by Lars von Trier, but then said he was "pleasantly surprised" by how good it was. While another obviously fancied actress Siir Tilif, but complained there "wasn't enough action" between her and Vadsholt. He then asked for her telephone number.
To download the film, click here.
---
Emergency call centre film selected as Denmark's Oscar nomination
'Den skyldige' ('The Guilty') has been selected as Denmark's official entry in the 2018 Best Foreign Language Film Oscar category. Gustav Möller's film, which is entirely filmed from the point of view of an emergency call centre operator at his workplace, saw off competition from Bille August's 'Lykke-Per' ( 'A Fortunate Man') and Hlynur Pálmason's 'Vinterbrødre' ('Winter Brothers'). It will learn sometime in December whether it is on a nine-film shortlist for the award, and then on January 22 whether it has made the final five-movie list. Next year's Oscars are on February 24.
FCK kick off Europa League campaign with home draw against favourites
FC Copenhagen started their Europa League group stage campaign last night with a 1-1 draw at home to Russian outfit Zenit St Petersburg, the group favourites. FCK, which bookmakers are also tipping to qualify for the last 32, responded well to conceding a late first-half goal despite dominating, and they duly equalised through Pieros Sotiriou after 63 minutes. Next up for FCK is an away trip to Bordeaux, who lost 1-0 in their opening game to Slavia Prague, in two weeks' time.
Not a good week for Denmark's top stars
It hasn't been a great week for Denmark's top sports stars. Caroline Wozniacki was yesterday knocked out of the Pan Pacific Open in Tokyo by Germany's Camila Giorgi. Kevin Magnusson finished in last place in Sunday's Singapore Grand Prix on a street circuit he could never get to grips with. And Christian Eriksen fulfilled a childhood dream to score at the San Siro on Tuesday, only to see his side Tottenham Hotspur concede two late goals to lose 2-1 to Inter Milan in the opening game of their Champions League campaign.
Ed Sheeran to perform in forest in Denmark
British singer-songwriter Ed Sheeran has confirmed he will be playing a concert in the forest of Tusindårsskoven near Odense on July 28, where there will be room for a crowd of 43,000. Tickets go on sale on September 27 at 11:00. Meanwhile, in related news, Lukas Graham has announced it will be performing a second show at Royal Arena – this time on January 30 – after its first sold out in 12 minutes, as well as a second performance at Jyske Bank Boxen on February 3. Ticket prices start at 270 kroner, and sales start at 09.00 on September 24. Finally, Genesis guitarist Steve Hackett is performing at Amager Bio on May 16. Tickets cost 325 kroner and go on sale on September 28 at 10:00. All of the tickets are available via ticketmaster.dk.
Take That coming to Denmark next year
Take That are bringing their 30-year anniversary tour to Denmark next year. The boy band, which now only has three members – Gary Barlow, Howard Donald and Mark Owen – are playing at KB Hallen in Copenhagen on June 21. Tickets cost 470 kroner and sales start on September 28 at 10:30 via billetlugen.dk.
Amateur-hour Denmark slips a place but remains in top ten of FIFA rankings
Denmark has slipped a place in the FIFA World Rankings, but still remains in the top ten and the number one Nordic side – not bad for a side that entered a bunch of amateurs in a recent friendly – ahead of Sweden (15), Iceland (36), Norway (52), Finland (58) and the Faroe Islands (92). Belgium and France top the rankings together.