It's finally official. After months of expectant waiting, the Danish dual citizenship law has officially come into effect on this day, 1 September 2015. Let the celebrations commence.
The association for Danes living abroad, Danes Worldwide, has arranged a dual citizenship party at Pressen in Politikens Hus at the city square Rådhuspladsen at 17:30 this evening.
"We'll offer up a glass of bubbly, some good food to eat and the bar will be open all night," Danes Worldwide wrote.
Taking part in the festivities will be Adam Price, the author of the hit TV series 'Borgen', and the culture and church minister, Bertel Haarder.
The Morten Vestergaard jazz trio will entertain with lounge music throughout the evening, before Denmark's soul talent Patrick Dorgan and his band wrap up the night.
READ MORE: City ceremonies confirm last ever citizenship conversions
Celebrations from Texas to Muscat
Danes Worldwide will also name their annual 'Dane of the year' prize, which goes to a Dane who has helped put Denmark on the world map during the year. This year it's going to 'Game of Thrones' actor Nikolaj Coster-Waldau, but there's now word on whether he can tear himself away from Westeros to collect the award.
It's last-chance saloon to get tickets for the fun tonight. Tickets can be purchased on the Danes Worldwide website here for 225-300 kroner depending on whether you are a member or not.
Danes Worldwide has also sent off ten layer cakes to ten destinations around the world where similar dual citizenship celebrations are being held.
Those destinations are Istanbul (Turkey), Muscat (Oman), Frankfurt (Germany), Texas (US), Wellington (New Zealand), Perth (Australia), Rio de Janeiro (Brazil), Budapest (Hungary), Bristol (UK) and Cape Town (South Africa).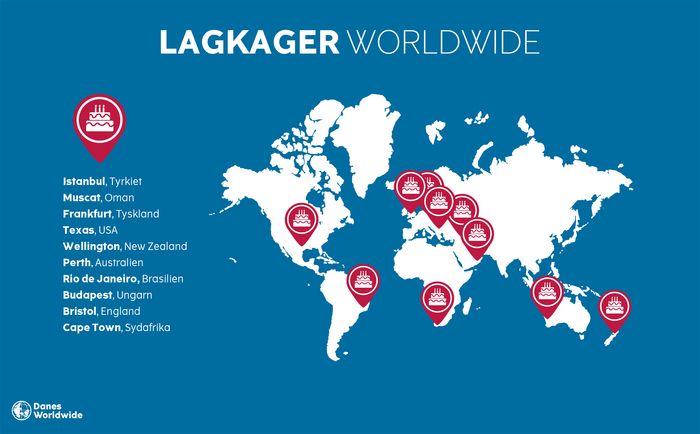 The party is going down across the planet (photo: Danes Worldwide)