How do you draw attention to the plight of an endangered species such as cod? By getting stark naked, apparently.
Along with a number of Hollywood stars such as Sean Penn and Josh Brolin, a number of Danish actors have joined a campaign to pose with nothing but a strategically-placed fish to cover their modesty.
Thure Lindhardt, Trine Dyrholm, Lars Brygmann, Nicolas Bro, Iben Hjejle and Natalie Madueño have all appeared for the 'Fishlove' campaign organised for the organisation Our Fish.
The campaign has been going strong since 2009 and it is hoped the action will help to send a message to EU governments to stop overfishing.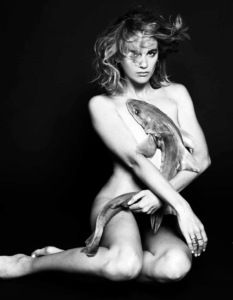 ---
'Indian Summer' this week – enjoy it while you can
Autumn has been postponed for a while, as from tomorrow the sun will be coming out and temperatures could reach 20 degrees, according to a forecast from Henning Gisselø at the DMI meteorological institute. "We'll be experiencing what we unofficially call an 'Indian Summer' – that means that after a period with low temperatures, we will again see sunshine and warmer days up to a possible 20 degrees," said Gisselø. Most of the country will see sunny weather on Wednesday and Thursday, but only the southernmost parts will experience high temperatures. But make the most of it, as by the time the weekend arrives the weather is expected to change, at which point we can expect clouds and rain accompanied by cooler weather.
Massive data centre could be Denmark's biggest
US IT giant Facebook, which is currently building a data centre south of Odense, is reportedly about to start work on another one, reports Avisen Danmark. The company is looking at a piece of land near Esbjerg close to the village of Andrup. If the building goes ahead it will encompass 250,000 sqm under one roof – the size of 40 football pitches, reports TV2 Nyheder. The centre would host data halls, administrative, logistics and service buildings, and high-tension power installations. This would make the centre the joint largest in Denmark – equal to Apple's facility in Viborg – and around five times the size of Facebook's data centre in Odense.
A nation of landowners
Figures from national statistics keeper Danmarks Statistic released today reveal that around half of all Danes over the age of 20 own part of the built-up area of Denmark. Of those, 25 percent own more than one property and men own most. In numerical terms, 1.9 million Danes owned almost 75 percent of the total of the 3,000 square kilometres that made up built-up areas in 2016 in total. In some municipalities, especially in Jutland, men own almost 80 percent, whilst the proportion in some of the municipalities around Copenhagen is almost equally spread between women and men.
None so queer as penguins, apparently
Odense Zoo played host to an unusual kidnapping drama at the end of September when a couple comprised of two male penguins appropriated a chick whilst its parents were swimming, DR Nyheder reports. It is not completely unprecedented for males to kidnap a chick; according to zoo keeper Sandie Hedegård Munck, they are very interested in eggs and chicks. "Males don't have young because they don't lay eggs, so it is a really good exercise for them to look after this chick," she said. "They are often very helpful. If an egg is neglected, we can always give it to a pair like this," she added. The chick has since been returned to its rightful parents, but the two males have subsequently been given an egg from a 'single mother' unable to hatch it herself.
Back to the Future?
The US rapper Desiigner, most famous for his hit 'Panda' from 2016, was playing at Train in Aarhus last Monday when 'an altercation' broke out between him and a member of the audience, reports Ekstra Bladet. It is not entirely clear what the argument was about, although one report suggested the heckler called the rapper a 'knock-off version of Future' [a rival rapper]. According to Train's boss Carsten V Nielsen, "our security personnel stepped in to separate the parties and the members of the public involved were escorted from the premises and the concert was cut short soon after." Desiigner had already been involved in an incident with an airline employee on the plane on the way to the concert when he flew from Copenhagen to Tirstrup Airport in Aarhus