Amid the merriment among revellers out celebrating St Patrick's Day last week on Friday, a more sombre mood took over as news began to filter through that the Irish community had lost one of its own.
Very few people knew that Jonathan 'Jonno' Farrelly, the landlord of the Irish Rover since its opening in 2004, had been battling cancer this past year, so it was a great shock to many to hear of his passing.
He was only 46 years old and had two young children aged 11 and 9.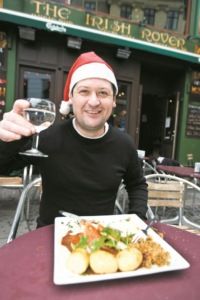 Twenty odd years in the capital
Born in the Dublin suburban town of Lucan in December 1970, Jonno was one of the youngest of eight children.
He moved to Copenhagen in the 1990s, working first for the Shamrock Inn and then for the Dubliner on Strøget where he realised the potential for centrally-based Irish pubs.
In 2004, he decided to go it alone, convincing his backers there was more than enough room for another Irish pub on the city's main walking street, and he wasn't wrong.
READ MORE: End of an era at the Irish Rover, and the beginning of a new one
Infectious enthusiasm
During his time as a barman and then a landlord, Jonno's infectious enthusiasm brought joy and laughter to many people's lives.
He was hugely generous, and this was no more evident than at his famous 'Irish Day at the Races' events at Klampenborg Racetrack in early May.
They never failed to attract a big crowd, rain or shine, partly because he arranged free transport for many of the patrons, as well as entertainment for the children.
As a devoted family man, he was always keen to ensure his pubs offered a wholesome environment to families at Saturday and Sunday lunchtime, and also over Christmas – perhaps with a glint in his eye that if the children were happy, their parents can relax and drink more.
An undisputed showman
And he was also an undoubted showman, whether it was sharing banter with the punters on J-Dag or St Patrick's Day, brainstorming at a work meeting or orchestrating a photo shoot.
Eurovision winner Jonny Logan and some of the top snooker players in the world – Mark Selby and John Higgins – were among his guests, as was on one memorable occasion the former football hooligan Cass Pennant, who he invited to give a talk.
There was no limit to his entrepreneurial ambition, and back home in Ireland he had many other business interests, including a burgeoning shakes and juices business.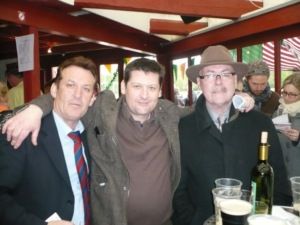 Remembered with tears and smiles
"He always made people laugh – he was so liked in this city and in his hometown of Lucan," lamented Anthony Foster, the head chef at Rosie McGee's, who worked with Jonno for several years at the Dubliner.
"The whole city was in shock on Friday, and with tears and smiles we raised our glasses to him."
Also in contact with CPH POST to pay their condolences over the weekend were Kieran Cahill, his right-hand man at the Irish Rover for the last decade, Brian McKenna, the landlord of The Globe, Gus Brown, the landlord of the Dubliner, and Copenhagen Celtic, the international football club that Jonno was a generous sponsor of.
Cahill summed up so many people's shock when he said his former boss and friend's passing had left everyone "all in a heap".
Donations most welcome
His funeral is on Wednesday at St Mary's Church in Lucan, and while the Farrellys have stressed family flowers only, donations are most welcome to the Make a Wish Foundation.
One option could be to leave a contribution behind the bar at the Irish Rover, which recently relocated to a new venue on Strøget.
The pub and friends of Jonno are busy putting together plans for a memorial service, either later this month or in April.