When investigating the revered art of watchmaking, it quickly becomes clear that the Swiss have got their time-piece mechanisms in working order.
With some help from the third man
From Rolex and Breitling to Omega and TAG Heuer, no other country comes close to matching the little Alpine nation's rich culture of making watches. But now three Danes have turned to crowdfunding to offer up some competition.
Founded by the two watch and Scandi design enthusiasts Pascar Sivam and Vasilij Brandt, Danish startup Nordgreen is going 'on the clock' via Kickstarter, and by partnering up with award-winning designer Jakob Wagner, they certainly won't be lacking in pedigree.
The ambition that makes them tick
Their lofty goal is simple: to be the most recognisable Danish designer watch brand in the world! Their Kickstarter project (read more here) has set a pledge goal of 100,000 kroner.
"Our first collection, designed by Jakob Wagner, is a tribute to traditional Scandinavian design. The watches are minimalistic, yet intriguing, because of the level of detail that only a renowned designer can accomplish," Nordgreen wrote in a press release.
"Our mission is to create classic Scandinavian designs that truly meet the bar set by other famous Scandinavian designers (but without the price-tag)."
Minimalistic and meticulous
Three watches to look out for are the 'Philosopher', the 'Infinity' and the 'Native' (see image below). The watches boast a stainless steel case, diamond cut hands and an Italian leather strap. They are all assembled by hand, water resistant and come with a five-year warranty. See more in this video.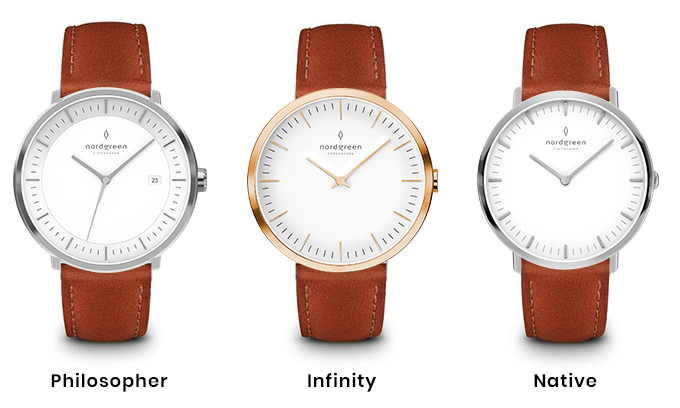 Staying true to the ethos of Scandinavian design, Nordgreen watches are classically minimalistic and meticulously designed in the name of sustainability – another arena in which the Danes and their Scandi brethren lead the way globally.
Pledge, provide and pick your package
Pledgers can pick from three causes to support: clean water provisions in Africa, rain forest protection in South America, or youth education in India.
Pledgers can choose from four packages, ranging from the 899 kroner 'super early bird' pledge – which will get you one Nordgreen timepiece of your choice plus an extra strap – to the 8,200+ kroner 'Jumbo Retail Pack', which will net you 10 Nordgreen watches and extra straps.
Partnering up with Wagner looks to be far from a coincidence. Aside from producing a variety of lines for the likes of Bang & Olufsen, Alessi, Muuto and Stelton, Wagner spent time in Switzerland during his educational years.
Now he's coming full circle, it seems.