It is a cold November night in Copenhagen, but the temperature is rising fast at Rust, a live music venue in Nørrebro, a traditional working-class district. The stage is covered with smoke and ever-changing light. There is a capacity crowd of about 300, all with a beer in hand, shaking their heads in time with the music. Artifact Collective, an emerging Danish indie band of seven members, are performing. Besides typical band instruments – guitar, bass, keyboard and drums – they include a trumpet, which makes their music sound like an interesting mix of soul, rock, rap and rock.
Effortless blurring of genres
Three hundred is an impressive number for an emerging band, and the Danish indie music scene would certainly appear to be vibrant and full of opportunity. However, it not internationally well known. To gain some insight into the current situation, CPH POST caught up with US music journalist Saby Reyes-Kulkarni, who has recently reviewed new albums by Danish acts such as Lowly, Mew and Communions for online music outlet Pitchfork, as well as writing a 2015 roundup on experimental Scandinavian jazz groups for MTV Iggy.
"A few Danish acts caught my attention a few years ago," he told me. "I wouldn't want to generalise for all of Scandinavia, but I get the sense that musicians from that part of the world tend to have a more flexible approach to genre. You see some really interesting examples of bands blurring the lines between indie rock, jazz and rock, and indie music and chamber pop," he says, "And I'm definitely excited by a lot of what I'm hearing coming out of Denmark in particular."
And there are signs that Danish music is reaching an international audience. Danish punk bands Ice Age and Lower were the headliners at Pitchfork Northside's Festival in Brooklyn, New York in 2013; Mew performed at South by Southwest in Austin, Texas in 2015; and Danish indie band Communions were among the line-up at Summer Sonic Tokyo in 2017. It seems that Danish indie music is doing well outside of Denmark.
Increasingly making the step up
"In my opinion, the indie music scene right now is becoming bigger than it's been the last eight to ten years," contended Mathias Stilling, a programmer at Uniradioen, an independent student radio platform founded in 1987 in Copenhagen, which focuses on Danish upcoming artists.
In his opinion, artists can be separated into four types. At the bottom, there are musicians who mainly play at open mic events. Moving up are the emerging bands like Artifact Collective, who can attract a significant audience even in a small venue. Then the first two classes are those who are known nationwide and perform on TV.
"You actually see a lot more the third class artists become second class than you did four or five years ago. Especially the radio stations have a power to put the smaller artists into the bigger classes," he explained.
Copenhagen a melting pot
Additionally, there is something special about the indie music scene here. "Copenhagen is filled with different venues where plenty of underground bands play each week," said Mathias.
In Copenhagen, artists are lucky enough to have music venues like Mojo's, KB18, Bakken and Rust, which encourage indie bands to share their music. Those venues provide platforms for Danish emerging bands to promote their work, which sometimes is surprisingly creative and interesting.
In this space, the Danish indie music scene is growing and becoming more diverse, but not everyone is convinced.
Second fiddle to urban and hip-hop
Andreas Ledet, a guitarist with Navneløs, a Danish indie band, who is now working as a digital marketing assistant at Universal Music Denmark, has a different viewpoint.
"From my perspective, the indie scene in Denmark is hot, but not as hot as it has been. Five to ten years ago, indie music as a genre was actually a movement that made it somewhat to the mainstream in the same way as glam rock did in the '80s, grunge did in the early '90s, techno did in the late '90s and emo did in the late '00s. It was a popular movement in a certain time," he said.
"The movement of our present time is urban and hip-hop, the way I see it. Indie music is still alive and well, but it's not in my opinion a characteristic genre for our current time."
Ledet thinks that the change in the market plays a key role in the indie music scene.
"We now have a more autonomous market where indie artists no longer need the labels. This means that more music is being released, but quality also varies much more, as quality control is now less present," he said.
"In the niche market of indie music in a territory as small as Denmark, this can potentially flood the market with too much music, which is not good enough for the limited amount of potential consumers to appreciate it all."
A lot of overlapping
Signe SigneSigne, the bass player of Nelson Can, an upcoming Danish rock band, agrees with him.
"I think the Danish indie music scene is quite small. Most of us [Danish bands] use the same 40-50 producers and mixing engineers, and a lot of the bands follow somewhat the same patterns in the way they release and promote their music," she said.
"The audience who listen to indie music is also somewhat [homogeneous] and the fan bases of most Danish indie bands overlap quite a lot. So while we are becoming very good at doing what we do, the disadvantage is that the scene is developing quite slowly."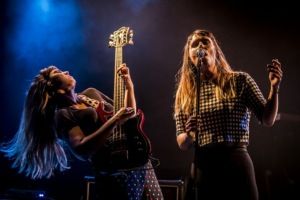 More reach globally
Although it is a relatively small indie scene, nowadays, with the development of the internet and online music platforms like Bandcamp, Soundcloud and Spotify, it is easier for artists to make music and share their work with an international audience.
"Indie music and Danish music is much easier to push worldwide than it was 20 or even 10 years ago," enthused Ledet.
"Now everyone can put their stuff on Spotify or Bandcamp or YouTube or Soundcloud, and suddenly people in Peru discover some obscure Danish bands. Denmark as a territory is very small. So as a niche/indie band, it can be very hard to gain enough fans to make money and play at significant shows. But with the globalised music market, a niche band who might have had a potential fan base of 15,000 people in Denmark can suddenly have a potential worldwide fan base of more than a million people because they can simply get a wider reach."
Learn from the neighbours
However, when it comes to an international context, bands from Sweden, the neighbouring Nordic country, often seem to be better known and have a larger impact than Danish bands do.
"A lot of people know Danish bands. They just don't know that they are Danish," said SigneSigne.
"Swedish bands are being branded as 'Swedish'. Danish bands rarely talk about their nationality. Some of the big Danish names in the past 20 years are MØ, AQUA, Trentemølller, Mew, Lukas Graham, Volbeat, Oh Land, Kwamie Liv … I don't ever hear any of these being branded as Danish – not even Scandinavian."
Sting in the tail
The online streaming and recommended/curated playlists will assist Danish indie artists in selling their work to different parts of the world, "but they might never remember who made the song because they didn't actively discover it," contended Ledet.
"But things are always less known than you think. Even big international artists with long careers can have low general recognition among the public."
Ledet uses Sting, a world famous singer from the Police, as an example. From what he remembers from an article, Sting "only has about 40 percent recognition among Danes, which means that only less than half of Danes know who Sting is".
Depending on your perspective, therefore, Danish indie music is either struggling domestically or thriving abroad.
Loke Rahbek, one of the owners of the Copenhagen-based music label Posh Isolation, is clearly an optimist. In a recent article published by Resident Advisor, he succinctly points out: "It used to be from Copenhagen for Copenhagen, and now it's from Copenhagen for the world."