Language classes will no longer be free for foreigners in Denmark, once the government's new tax agreement is approved by Parliament. The government parties have the support of Dansk Folkeparti (DF) to get the necessary majority.
The compromise agreement on reducing taxes by 5 billion kroner, which was announced on Tuesday, will be partly financed by charging for the classes.
2,000 kroner per class
Each module will cost 2,000 kroner, so the classes will still be subsidised, which means the six-module course will cost 12,000 kroner.
In addition, students will still be required to pay a 1,250 kroner deposit per module, which will be refundable upon completion.
"The deposit and fees charged to participants will provide an incentive that should ensure that only the economically self-sufficient people who are highly motivated start courses," noted the agreement.
Given that the passing of the bill is expected to be a formality, the measures are set to come into force on 1 July 2018. See the government's exact wording below.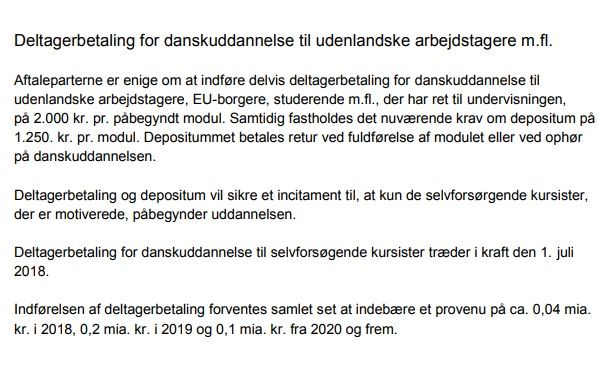 Benefits hit as well
Meanwhile, the compromise agreement has also introduced new rules regarding earning the right to benefits.
"Earning the right to benefits sends a signal that the conditions for access to full benefits are that you have strong ties to Danish society and have contributed to it over a longer period," the agreement states.
For unemployment benefits, the rules will be changed so that a member of an A-kasse unemployment scheme must have legally remained in Denmark or another EU/EEA country for seven out of the past eight years to receive benefits.
However, the government and DF are in agreement that this would not apply to Danes who have been working abroad as a result of postings from their employer.
If a foreigner does not fulfil the criteria described above, they may still be entitled to the lower integration benefits, provided they are entitled to them.
READ ALSO: Government teams up with DF for 2018 budget plan
Playing harder to get
The right of access to education and benefits is also being changed. At present, you have to have been in Denmark for 7 out of 8 years in order to qualify. That is being changed to 9 out of 10 years. On top of that is a supplementary demand that the person has to have worked 2.5 of the last 10 years.
The new regulations will come into force from 1 January 2019 for anyone who has entered Denmark after 1 January 2008 – both foreigners and Danish citizens – but will not apply to people already receiving benefits from 1 January 2019.