Gaining recognition for an English-language theatre production in Denmark can be like banging your head against a brick wall, so it's apt that two Anglophone actors with 'wall' in their name have been nominated for mainstream CPHCulture awards this morning.
However, no sooner has one wall fallen – last year, the cinema and theatre review site became the first Danish-language reviewer to introduce a category to recognise foreign theatre performances – another has seemingly appeared.
READ MORE: The secret's out-2015 was a big year for English-language theatre in Denmark
Last year's inaugural 'Årets Udenlandske Stykker' category has been replaced by 'Årets Nye Udenlandske Stykke', and with an emphasis on 'nye' (new) there is no room for any of Denmark's established English-language theatres among the ten nominees, which includes a Danish language version of a US musical written in the 1980s.
Mainstream acting nominations
Nevertheless, acting nominations for Charlie Waller in 'The Pillowman' and Dawn Wall in 'Educating Rita' suggest that English-language theatre needn't rely on niche awards to grab silverware anymore.
READ MORE: Bravo Charlie! Rumble Strips lead singer a revelation in Leftfield's 'The Pillowman'
Waller, formerly the lead singer of British band the Rumble Strips, has received a well-deserved supporting actor nod for his show-stealing performance in Leftfield Theatre's ambitious April production.
And British actress Wall is up for best Copenhagen breakthrough for her triumph as Rita in That Theatre's adaptation of Willie Russell's classic play. Sadly for her fans, she has this month departed to the UK to pursue her career based in London.
READ MORE: Performance Review: Lovely Rita, a star is made
Among those also shortlisted in her category is Danish actor Cyron Melville for his portrayal of 'The Dane' in Hamletscenen's August production of 'Hamlet' at Kronborg Castle.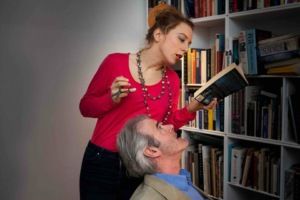 Special nom for Slapstick Sherlock
Not to be outdone, Down the Rabbit Hole and Manusarts, the resident theatre groups at Huset's House of International Theatre, have been shortlisted in the 'special prize' category for their recent production of 'Slapstick Sherlock' – alongside, among others, 'Queer Christmas Cabaret' by Warehouse9  – starring Gordon Torbet, a cohort of Waller's at the increasingly influential Improv Comedy Copenhagen.
The 'Årets Nye Udenlandske Stykke' category has very few genuinely foreign productions. Instead, most of the nominees appear to be works translated into Danish – like the aforementioned 'Into the Woods'.
And just in case it wasn't obvious this was a Danish awards list, 'Fucking Åmål' has been shortlisted for best children's/youth performance.
The winners will be announced on February 1 on 12:00.