Swiftly going viral is the work of Danish artist Thomas Dambo.
We choose the word 'swiftly' for good reason, as unsuspecting ramblers on the outskirts of Greater Copenhagen feel like Gulliver landing in Brobdingnag when they stumble across one of Dambo's hidden giants in the undergrowth.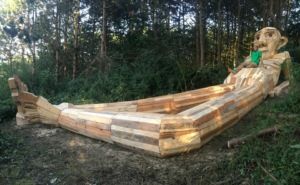 Working with the municipalities
Using recycled wood, Dambo has deliberately placed the sculptures "off the beaten track where people don't go too often" in the leafy municipality suburbs of Rødovre, Hvidovre, Vallensbæk, Ishøj, Albertslund and Høje Taastrup.
The locations are no accident, as the western Copenhagen municipalities themselves contacted Dambo and directly collaborated on the project, 'The Forgotten Giants, a Sculpture Treasure Hunt'.
"It seemed natural to make something that could get people out and explore the beautiful nature on the outskirts," the artist explained in a video uploaded to YouTube (see at bottom).
Using the treasure map
"The sculptures can only be found by using a treasure map, or a poem engraved into a stone near each sculpture," the mysterious artist wrote in a blog on the Bored Panda website.
"These give hints on how to find the different giants."
Named after volunteers
Dambo, who has made approximately 25 big recycled sculptures around the world, took three years to realise his ambition. He sourced the wood mainly from 600 pallets, as well as a fence, an old wooden shed, and whatever else he "was able to scavenge".
Each sculpture is named after a volunteer who helped Dambo to make the sculptures: Teddy Friendly, Oscar under the Bridge, Sleeping Louis, Little Tilde, Thomas on the Mountain, and Hill Top Trine.
"I hope my art will inspire people to see the big potential in recycling and taking better care of our planet," he said.
So what's stopping you this weekend? Use the map to find the location of the first statue, Sleeping Louis (below), where you will discover the clue to the site of the next.
In the forest it is lovely to play hide and seek,
and if you find me, we can play together.
I have a large flock of siblings,
but we are hidden from humans.
They call us the Forgotten Giants.