There's no doubt life speeded up in the 20th Century. From the steamboat to Concorde, telegram to email, and gas oven to microwave, the speed of transport, communication and food accelerated beyond our expectations.
Quick and easy consumption has played a large role in our progress, enabling us to make purchases on the move. But as we face up to our carbon footprint, start to question every single ingredient we consume and demand the highest possible quality, it has become increasingly popular to join the ranks of ethical shoppers.
In many progressive societies today, whether it is organic kindergarten menus, 14-course tasting menus or pulled pork, the care of previous generations has returned along with new concern. Increasingly countries like Denmark are emerging as slow food nations.
Slow-paced shopping
Two pioneers of the ethical shopping movement are green entrepreneurs Bryan Traum and Mette Brandt Nielsen – the respective owners of the eye-catching and reputable stores EcoEgo – Green Living Made Easy and Fredbogård-Butiken – who bring to their businesses a nice atmosphere, expertise and a personal touch.
Traum and Nielsen are part of a growing breed who have embraced the principle that tradition and sustainability are worth taking time over and that we can enjoy growing, preparing and eating our food – all at its own pace.
And this extends to purchasing. While numerous online businesses specialising in sustainable products have sprung up, they cannot offer customers the chance to sample the goods or talk to the seller – an undervalued commodity as our social and business lives are increasingly conducted online with less face-to-face encounters.
'Slow Shopping' has some distinct advantages. It emphasises the worth of sustainable products and the act of shopping as a way to encourage the traditional community staples – a shared appreciation for something and the pleasant exchange. And the stores' small size allows for relationships to develop both between the owner and their customers, and between customers.
Anita the game-changer
The likes of Traum and Nielsen owe so much to Anita Roddick, the founder of The Body Shop and a game-changer in the world of beauty products whose appeal went far beyond vanity and aesthetics. She proved that you can be an idealist and run a profitable business, which she used as a platform to champion human rights across the globe.
The Body Shop's message had a profound impact on a whole generation of consumers routinely slathering themselves in mango butter lotions, banana shampoos, carrot face creams, diluted tea tree oils and fake tans.
Thanks to Roddick's information about the indigenous plants that were used, and the communities benefiting from the trade, millions started to question who was making the make-up sold on the high street and what the ingredients really
meant.
Typically anti-consumers
The public's interest has certainly aided the cause of Traum, the New Jersey-born owner of green lifestyle store EcoEgo – Green Living Made Easy in central Copenhagen and the online store ecoego.dk, which has useful 'cruelty free' labels.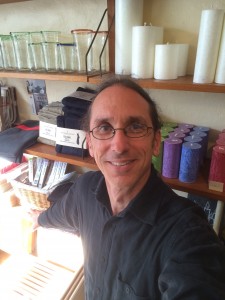 "The advantage of having a physical store is that I can talk with the customers about the products and the labelling, while they get to smell and feel the items," he revealed.
"These conversations are important to spread the information to a lot of people, and I also learn from their expertise. My customers are typically anti-consumers. Actually, I advise people not to buy anything if they don't need to, or to prioritise buying things second-hand to save resources."
When Traum founded his business seven years ago, he could see there was a gap in the market, despite the financial crisis that had led to similar businesses struggling or shutting down.
"I couldn't find the products I was looking for – things like recycled printing paper or organic underwear," he said.
"Now I can pay the rent and pay back the initial costs, but there's no big profit yet. The prices here aim to give everyone in the chain a fair deal. Organic and ethical products don't have to be exclusive. My customers include just about everyone from grass-roots activists, to mothers of newborns, and grandmothers shopping for their grandchildren."
Focus on holistic health
Nielsen, the owner of Fredbogård-Butiken in Gilleleje, focuses on having a wider product range, selling vitamins, make-up, clothing, toys, dried goods, meat and fresh veggies.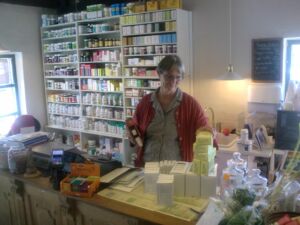 "It is convenient for people to have so many different sorts of things in one shop – they can pick up meat and cosmetics at the same time," she revealed.
Up until three years ago, she had a few hundred cows and was the secretary for the Association of Highland Cattle.
"On a tour of Scotland over 30 years ago I said to my husband that if we own a farm we'll have Highland Cattle – I thought they were beautiful," she recalled.
"Then, when my children were small we ran a farm shop selling organic meat and a few other items. It grew from there. Farming is a social activity and I've always been interested in holistic health, so now we also have a large section with vitamins, minerals and such things."
Denmark's big test?
Traum identifies the contradiction facing many green entrepreneurs today – namely that the client base mostly disapproves of unrestrained consumerism.
However, if we consume less stuff we might have the extra money for the organic and ethical items we have set our hearts on.
It flies in the face of the unprecedented number of fast food chains – including Subway, Hwy 55, Pizza Hut, Domino's Pizza, McDonald's, Kentucky Fried Chicken, Max Burger, Burger King and Sunset Boulevard – that have announced major plans for Denmark in the past year.
It looks like Denmark's finally going to discover whether it's a fast food nation or not.