Bolivia is normally where rebels go to die: from Che Guevara to Butch Cassidy and the Sundance Kid.
Claus Meyer, who helped pioneer neo-Nordic cuisine at Copenhagen's Noma, arrived there in 2013 hoping to start a revolution.
He reasoned that Bolivia, which gave the world the quinoa craze, must have a few more culinary secrets up its sleeve. He also saw an opportunity for food to play a small but important role in the development of the country.
The Noma protege in La Paz
Meyer's hunch proved correct and Gustu has become a regular feature on the World's Top 50 restaurants List of Restaurants – Latin America.
Gustu was initially run by Denmark's Kamilla Seidler until she handed the reins over last year to Bolivia's Mauricio López, the restaurant's head chef since 2013.
López's own gastronomic breakthrough came when he was accepted onto a program offered by the Melting Pot Foundation, the gastronomically-minded charity established by Meyer.
He explained the process to the Bolivian Express in an interview: "I sent my CV, went to a couple of meetings, was given a visa and was told I would be in Copenhagen in ten days."
López interned at Noma and other fine European restaurants before returning home and working with Meyer to start the revolution.
"The restaurant was started in part to aid the development of the country through gastronomy," López explained.
Exporting the revolution to London
A certain party-like atmosphere accompanied Gustu's recent week-long pop-up at Carousel, a mixed-use space in London that hosts different chefs and culinary events. Recent months have seen chefs from Israel to Singapore scheduled to appear.
All revolutions must be exported to survive, Leon Trotsky once remarked, and for Bolivian gastronomy, there is no better start than being hosted at Carousel.
If most people were to name a food product grown in Bolivia, most would say quinoa, and Chef Lopez seemed eager to show off his new take on a classic Andean staple, the quinoa miso soup, which has quickly become one of his restaurant's signature dishes.
It is safe to say Bolivia has been at the frontline of the global quinoa craze, which saw production rise from 23 million tonnes in 2000 to 77 million tonnes in 2015 – the same year Mauricio Lopez became head chef at Gustu.
Quinoa, of course, holds a special significance to Bolivians as its production was forbidden by the Spanish colonial authorities. While La Paz is no stranger to revolutions having seen more than its fair share. At one time its only link to the rest of the country was the 'Death Highway', a road partly built by political prisoners.
Cheeky use of seafood
"These dishes use ingredients brought from Bolivia or locally-sourced alternatives," Lopez told the diners at the start of the service.
The Miso mouse was served with an avocado mouse to give it flavour. It was a delightful combination of small chunks of cubed peach. In the miso was a brothy, tangy take on Miso soup.
The cheekiest dish, however, was the Sea Trout Escabeche. Escabeche is a Spanish word loaned from Persian that refers to an array of techniques to preserve fish – usually with vinegar. It was served with a hot and bright yellow sauce of fermented chillis.
But what made the dish particularly cheeky was its use of seafood. Bolivia is after all a landlocked country.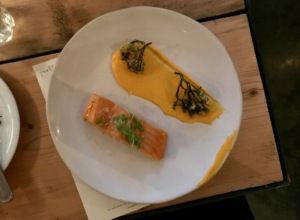 Delicious in any language
For many, desserts are an afterthought – something to experiment with, but often left to another chef down the stretch. But not on this night.
Lopez's bitter Callampa mushroom ice cream was offset with basil oil and Brazilian nuts. The result was flavorful, rich and, thanks to the basil, somewhat refreshing. It was a worthy end to the meal at Gustu — which means delicious in the Quechua language.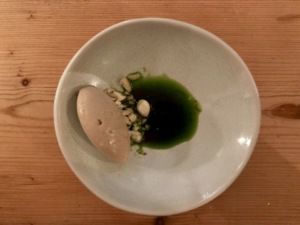 A whole army is springing up
Lopez isn't the only soldier in Bolivia's culinary revolution – but he may be its leader.
Through an initiative funded by Meyer, some 3,000 students have been trained at culinary institutions in El Alto and La Paz, and many of them have passed through Gustu's kitchen.
Could Gusut soon crack The World's 50 Best ? The London pop-up took place less than a month before the unveiling of the World's 50 Best Restaurants in 2018 – a victory marking the culmination of the Bolivian revolution and Meyer's face in the country.
And let's not forget: an important milestone in the culinary development of one Latin America's poorest countries.