A convincing 49-18 win over the Aalborg 89ers in the DAFF Championship semi-finals has secured a berth in Mermaid Bowl 30 for the Copenhagen Towers.
This will be the 10th Mermaid Bowl appearance. Their opponents in the championship game are the Triangle Razorbacks from Vejle.
Powerhouse offensive effort
In the semi-final the Towers faced a very fired-up squad from Aalborg. But in the end, the experience and depth of the Towers team was enough to secure the tenth Mermaid Bowl berth in the team's  history.
Quarterback Randy Schroeder, running back Dayton Winn and wide receiver Aske Troen were expected to play big roles for the Towers offence, and they did not disappoint. But in the end it was a powerhouse effort by the entire offence that became the story of the day.
That is not to say that the offence alone delivered. The defence and special teams consistently made life difficult for the 89ers, giving them poor field position again and again.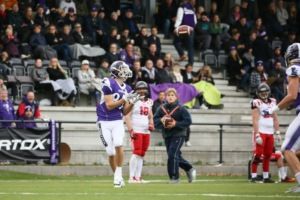 How the Towers made it ten
In the early 1990s the Towers were practically invincible in the Danish league and won four championships between 1992 and 1995 before losing for the first time in 1996.
Then a decade and a half of futility followed before the Towers once again joined the elite in Danish football in 2013. Since then the Towers have played in every Mermaid Bowl except one: in 2015.
Tough opponents
In the second semi-final the Triangle Razorbacks faced the second seeded Aarhus Tigers in Aarhus. In a very evenly matched game the away team came away with a 16-14 win and thus a spot in the Mermaid Bowl.
Consequently, Mermaid Bowl 30 will feature two teams with plenty of experience.
Mermaid Bowl 30 will be played at Slagelse Stadion on Saturday October 13 at 18:00.
The game will be streamed live at DR.dk and via DR's app. Tickets for the game are available at the gates or ahead of time here.