Workplace
Classic bikes and coffee beans at Denmark's first bike café
---
This article is more than 8 years old.
Icelandic small-business owners Kristín Einarsdóttir and Haukur Thorr tell us about their workplace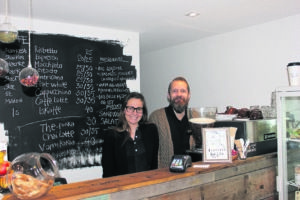 What is Heritage Coffee & Bikes?
KRISTÍN: It's a concept that hasn't existed in Denmark until now. We combined two things that people in Denmark love and need: bikes and coffee. It is a cosy café where people can get great coffee and food and enjoy our cosy shop. The name Heritage refers to recognising the quality of old things and modern things that will last. Almost all of the inventory in the shop is recycled from Genbyg.dk. We also sell clothes from the Icelandic brand Farmers Market that fits into our concept. It is an ethical and sustainable company – the clothes are manufactured in Portugal – and the products are made to last.
HAUKUR: Many of the bikes we sell are old vintage bikes that I have restored using original parts. Most bikes today aren't made the way they were in the past and many people treat them as disposable objects. I started restoring old frames as a hobby a few years ago. These were then noticed when I was about town and people wanted to buy them. I then started selling them as a business through my website hthorrbikes.com and now I have them on display at the shop.
How long have you been in business?
KRISTÍN: We have been working on the concept for three years now, but we have only been open since the middle of December. Everyone has been really positive. They love the coffee (we use Caffè River coffee). We put a lot of emphasis on quality, the experience and spending a lot of time on our customers. HAUKUR: We had a group of young people in last week and they started trying on the clothes and were having a great time – it was almost like a party. That's the spirit we want to have. We want people to feel relaxed and free to look around and touch things.
What brought you to Denmark?
HAUKUR: I was a manager in the biggest furniture store in Iceland and always dreamed of having my own business. I am passionate about design and decided to study to become an architect. I applied both in Iceland and in Denmark, not expecting to be accepted in Copenhagen. But to my surprise I got in here and we made the decision to move to Denmark.
KRISTÍN: I took my bachelor's degree in Iceland in business and mathematics. When we moved to Denmark I took my master's in economics and finance at CBS. Since then I spent time learning Danish, worked in a café in Christianshavn and worked for some time at Nordea.
Has it been straightforward as expats starting a business in Denmark?KRISTÍN: It has been a really positive experience. Everyone in the public administration has been very helpful and we have had great co-operation with tradesmen. We are a good team because I take care of the paperwork and the administrative side of the business, and Haukur is good at innovating and developing strategies. We think that it has meant a lot that we have been communicating with everyone in Danish. This wouldn't have been possible for us five years ago. But for anyone else thinking about doing a similar thing, our advice is don't give up! If you don't have that mentality, then you should forget it.