Life in Denmark
What if Tiger's immense golf talent had stayed in the woods?
---
This article is more than 8 years old.
You owe it to yourself to unearth your child's inner talent at one of Hørsholm Golf's Family Fridays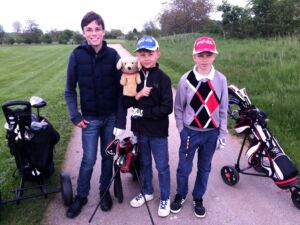 Some of my fondest memories growing up in the Smith household back in Blighty were our annual visits to the golf club.
Grandad, dressed up like Payne Stewart, leering at the lady golfers; Nanna, a dead ringer for Barbara Bush – fitting as that's where her ball always ended up; Dad, a sore loser, who once made me retake a holed chip because he swore he saw the ball move as I addressed it; and little sis, whose swing came in handy a few years later when she joined Brixton Neighbourhood Watch.
Sure, it wasn't exactly club etiquette playing as a five-ball (not long after, Grandad had a stroke of the ending-up-dead variety, so it wasn't a problem anymore), but they didn't really mind at the Beckenham Place Golf Course. We replaced our divots (when we could find them) and we let other players through (providing they didn't complain first). For family fun, you couldn't beat it.
Family fun on Fridays
So imagine my interest when I discovered that Hørsholm Golf, just north of Copenhagen, holds an arrangement on the last Friday of the month called Family Fridays.
There's no better time to get your children into golf when they're young (actually scratch that: Nick Faldo didn't start playing until he was 14, and junior golf clubs soon take their toll on your bank balance) as club memberships tend to be really good value until they hit 18 (after which … let's just say I took a lengthy sabbatical from the game).
So why not bring them along to have a go? You never know, you might have been harbouring the next Tiger Woods all these years, hiding his talent beneath a diet of chicken nugget and twinkies.
All abilities welcome
And while the juniors are put through their paces, the parents have the option of some free tuition on the driving range that usually culminates with a round on the par-3 course – a perfect way to ease in or ease back to the sport. After which, they join the juniors at an award ceremony dinner where prizes are dished out to the best of the day.
Should the kids enjoy themselves, they should know they are welcome to sign up for tuition on Tuesday or Wednesday afternoon, with a golf match every Friday afternoon (bar the last of the month, of course).
Remember that everyone (all abilities and ages) is welcome at Family Fridays, and that players can borrow equipment (a good option ahead of buying all the clobber yourself).
Joy for the juniors
"Family Fridays has been very well received by our members, and not least by the new juniors and their families," enthused Asta Grøndal, the chairman of the club's junior committee.
"The events are a pleasant and fun way to create new relationships and quickly become part of Hørsholm Golf's activities. Juniors are particularly pleased to attend the dinner award ceremonies, while parents and grandparents enjoy the golf training and getting to know the other families. Family Fridays have brought great joy to our junior members and their families, and we look forward to continuing the events in the autumn."