News
Dane following in the footsteps of Gagarin
---
This article is more than 8 years old.
Andreas Mogensen will have lift-off tomorrow morning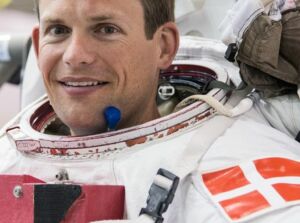 Tomorrow morning at 06:37 the Danish astronaut Andreas Mogensen will become the first Dane in space when the Soviet-era Soyuz rocket blasts off from the Baikonur Cosmodrome base in Kazakhstan.
Mogensen's 10-day mission to the International Space Station has taken him on a long road that will lift off from the very spot that legendary cosmonaut Yuri Gagarin accelerated up into the history books on man's first journey into space in 1961.
But it's not just the location that holds a unique connection to Gagarin. The rituals which Mogensen and his two co-astronauts must adhere to also hail from that first time Gagarin went into space 54 years ago.
From stopping and urinating by the right rear tyre, to watching a Soviet-style western and planting a tree in front of Baikonur Cosmodrome, Mogensen has many Soviet traditions to take into account looking ahead to tomorrow morning.
READ MORE: Danish astronaut making final preparations for space
Early doors at DTU
The Dane's personal items include family photos, a Danish flag, lego men, an original text by the philosopher Søren Kierkegaard, a baseball cap from the University of Texas – where he received a doctorate in aerospace engineering in 2007.
Mogensen has also brought his iPod along for the ride and will be listening to tunes by Dr Dre, Mew and Nina Simone as he becomes the first Dane to see his own country from space.
For us mere mortal landlubbers interested in waking up to witness Danish space history, there are also options. The easy step would be watching it all on DR2, but the more adventurous souls could go and see it all on the big screen at the library at DTU in Lyngby from 06:15 and onwards.
If you're not a morning person, then later on from 18:00-20:00 it will be possible to hear experts discuss the mission and Mogensen's duties on the ISS at the Tycho Brahes Planetarium in Copenhagen.