Sport
The story of Euro 1992: Eliminated, reinstated, celebrated, and now commemorated on film
---
This article is more than 8 years old.
Twenty-three years after Denmark's biggest moment in football, the story of Euro 1992 has finally hit the silver screen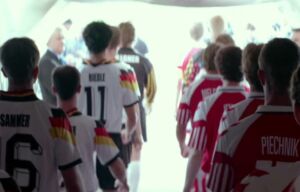 It was destined to happen. A sporting drama that has it all. Drama, suspense, war, an underdog going the distance and a heart-wrenching human factor.
It's amazing that it's taken over 23 years, but it's finally happened. Denmark's Euro 1992 miracle, Sommeren '92, has arrived at a cinema near you.
It started with a war
They weren't even supposed to be there. Given just over a week's notice to get prepared for the European Championships in Sweden, when Denmark were given the green light to replace Yugoslavia due to the War in Bosnia and Herzegovina, most of their players were already on their holidays, lounging around on beaches in the Mediterranean and Caribbean.
READ MORE: Denmark can win Euro 2012 – piece of kage
No-one gave them a chance of progressing from a tough group featuring England, France and hosts Sweden. But somehow they overcame the indomitable odds and found themselves facing the Dutch defending champions in the semi-finals and defeating them.
And the final against Germany on that sunny day in Gothenburg was something dreams are made of. Germany had won the World Cup only two years earlier, but an outstanding Peter Schmeichel and a wonder crack from John 'Faxe' Jensen brought glory to the Danes.
Another formidable team
Over two decades later and the golden fairytale miracle is finally reached the silver screen. Danish-English producer Kris Thykier, who oversaw the making of films such as 'Kick-Ass' (2010), 'Harry Brown' (2009) and 'The Debt' (2010), teamed up with Meta Foldager, who is no slouch herself having produced 'A Royal Affair' (2012), 'Melancholia' (2012) and 'Antichrist' (2009), to get the ball and cameras rolling on Denmark's proudest sports moment.
The screenplay was written by Anders August, the son of legendary director Bille August, who won an Oscar for 'Pelle the Conqueror' back in 1987. August Jr also wrote 'SuperClásico', a football-themed comedy that represented Denmark at the 2011 Oscars.
Football films can be tricky
But despite the dynamic story already being written for them, the filmmakers faced the daunting task of trying to recreate the magic of 1992 that took place on the pitch. Although football might be the most popular sport in the world, films about the sport are notoriously difficult to choreograph so they look genuine.
One only has to look at travesties such as the 'Goal!' trilogy, 'Young Giants', 'When Saturday Comes', and a host of other feeble attempts to portray the great game to realise that the filming of 'Denmark 92' won't be an easy task.
Fortunately, there are a few films that could provide the filmmakers with some confidence. Yes it may feature Sylvester Stallone as a goalkeeper, but 'Escape to Victory' is one of the few films where the football choreography isn't complete twaddle.
Casting suggestions back in 2012
Speculation was rife over who would play goalkeeping giant Schmeichel, embattled coach Richard Møller Nielsen and blue-eyed Flemming Poulsen, and the Copenhagen Post did its best to ease the casting process by coming with some recommendations back in 2012.
Regrettably, or so we believe, they were ultimately ignored.