Activities
Commemorating the king and father of blues
---
This article is more than 8 years old.
Copenhagen Blues Festival

Sep 22-27; various venues; copenhagenbluesfestival.dk 

This year would have seen Muddy Waters, the father of modern Chicago blues, celebrate his 100th birthday.
And this month, BB King, the man they called the 'King of the Blues', would have turned 90 had he not passed away in May. To mark these anniversaries, the 15th Copenhagen Blues Festival will be a commemoration of their contribution to the genre as well as a city-wide celebration of the blues and the talents who still play
today.
Taking part in a festival that encapsulates the storytelling and history of blues music, venues all over Copenhagen will play host to 60 concerts performed by Danish and international musicians – a diverse mix of the young, experimental and seasoned veterans of the scene.
In addition to the live music, the festival includes a Cinemateket screening of the critically-acclaimed BB King documentary 'The Life of Riley' as well as awards ceremonies for 'Danish Blues Act of the Year' and 'Best Blues Album of the Year'.
---
John Németh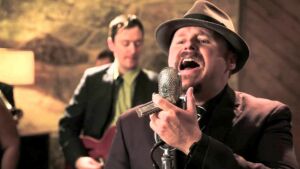 19:00, Wed Sep 23; Amager Bio, Øresundsvej 6, Cph S; 200kr, billetnet.dk
Living and working out of Memphis – the spiritual home of American roots music – is a far cry from the origins of this Idaho-born bluesman. Having honed his harmonica and vocal talents playing parties, bars and clubs every night of the week in Boise, Németh released his first solo album in 2004 and shortly afterwards signed a three-album deal.
Having settled in Memphis, Németh put together a backing band and released 'Memphis Grease' – an album chronicling his move to the West Coast to follow his girlfriend, their marriage and family, and second move to Tennessee. The story continues with a new record deal and tours across the world to play his music.
Epitomising the best of the blues, Németh's sound manages to be original and innovative at the same time. Supported by an all-star Memphis line-up of session musicians, who call themselves the Bo-Keys, the musical intuition and feel between the group pours off the stage and fuels the soul of live performances. An unmissable display of virtuoso musicianship and raw passion, Németh and his band bring American heartlands to the opening night at Amager Bio.
---
Thorbjørn Risager & The Black Tornado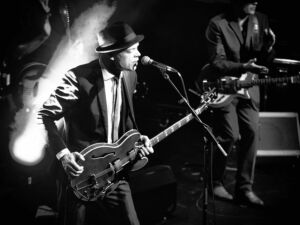 19:00, Wed Sep 23; Amager Bio, Øresundsvej 6, Cph S; 200kr, billetnet.dk
Denmark's biggest blues band exploded onto the international scene in 2014 following the release of their album 'Too Many Roads'. Compared to blues and soul artists like Joe Bonamassa, the epic soul orchestra that is The Black Tornado won the Danish Music Award for two consecutive years from 2013-14 and were nominated for a British Blues Award earlier this year. For a band from Denmark playing a style of music that is not popular in mainstream circles, these achievements are hugely impressive and show the calibre and originality of the band.
Singer and guitarist Thorbjørn Risager's gravelly voice and relentless rhythm playing bring a harder-edged nature to the blues, occasionally straying close to pure rock 'n' roll, but a killer horn section and prominent keyboards anchor The Black Tornado in blues and soul music. The sheer range of music they play is astonishing – from slinky, classic grooving tracks to toe-tapping Americana and all-out unleashed blues – they promise to make the opening night something very special indeed.
---
20:00, Thu Sep 24; Amager Bio, Øresundsvej 6, Cph S; 275kr, billetnet.dk
Selected artists will take to the Amager Bio stage in tribute to BB King, the 'King of the Blues', in celebration of what would have been his 90th birthday. Father-and-son vocalists Shaka and James Loveless are joined vocally by Thorbjørn Risager and Mike Andersen – both of whom have been deeply influenced by King. Multiple award-winning guitarist Otis Grand, a leading figure in European blues, leads Risager and Andersen backed by a house band that includes a three-man horn section. This would be an exceptional concert at any Copenhagen Blues Festival, but given the context of this being King's 90th year and this being the first festival since his death, this is a once-in-a-lifetime event.
---
Selwyn Birchwood Band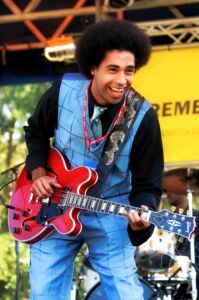 20:00, Fri Sep 25; Bartof Station, Solbjergvej 3, Frederiksberg; 150kr, billetto.dk
Having been heralded by Rolling Stone and the Washington Post as a soulful, emotive and modern bluesman, Floridian fireball Selwyn Birchwood brings his full band to the Blues Festival for a high-octane journey through the blues from southern country moods to full-bore raucous blues rock. Birchwood's commanding skill and spirited stage antics drag the audience headlong into the moment as he and his band play with all the soul and power of past blues heroes.
Birchwood cites finding Lightning Hopkins, Muddy Waters and Buddy Guy through listening to Jimi Hendrix as a child, and they are reflected in the band's performances and the genres Birchwood's original songs cross. With all the road-worn authenticity and grit of an old-time blues band, but keeping the zeal and energy of emerging talents, the Selwyn Birchwood band is an exciting glimpse of what blues holds for the future.
---
Cinemateket – 'Life Of Riley'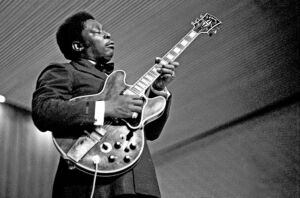 21:30, Tue Sep 22; Cinemateket, Gothersgade 55, Cph K; 70kr; dfi.dk/filmhuset
Recorded over two years in close collaboration with filmmaker John Brewer, this documentary film shows how King went from being a black cotton-picking orphan in segregated America to becoming a legendary musical figure and the 'King of the Blues'. King's influence and inspirational status is clear – global superstars from across music give heartfelt contributions including Bono, Eric Clapton, Ringo Starr and Slash.
Exposing the Deep South's role in King's music as much as his distintive and technical style, 'The Life of Riley' takes a look at racism and how African-American expression in the US grew into an enormous movement in
music.
By showing it at Cinemateket as its opening event, the Copenhagen Blues Festival is not only honouring BB King the man, but his story and that of other blues artists whose history and stories have crosses cultures and oceans to become ingrained the world over.
---
Mississippi Heat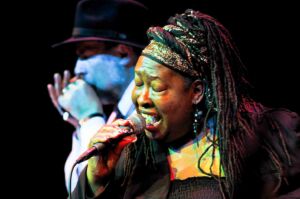 20:00, Sat Sep 26; Bartof Station, Solbjergvej 3, Frederiksberg; 200kr, billetto.dk
This Chicago sextet describe themselves as playing "pure traditional blues with a unique sound". In a scene where artists are increasingly crossing genres and exploring rock and country elements, Mississippi Heat's music drips languorous guitar licks and haunting harmonica over a base rooted in the classic sounds of Chicago-style electric blues made famous by Muddy Waters and Howlin' Wolf.
The pulsating, beating heart of America is captured in the vocals of Chicago-born Inetta Visor, a long-time choir leader. Her smooth, emotive delivery is like that of Etta James or Nina Simone and owes as much to jazz as it does to the no-holds-barred male howls in blues.
The harmonica of Pierre Lacocque, an Israeli-born Belgian, characterises the band – his diverse upbringing and time in Chicago imbued him with a sense of the roots of blues and the fragmented history of its original players. Recording and touring since their chance formation in a nightclub in 1991, Mississippi Heat's distinctive sound and honest treatment of traditional blues classics is not to be missed.
---
John Primer and Copenhagen Slim

19:00, Thu Sep 24; Mojo, Løngangstræde 21, Cph K; 150kr; mojo.dk
Mississippi-born John Primer, a stalwart of the Chicago Blues scene, is bringing his world-renowned guitar style and distinct vocals to this event to mark the centenary of the birth of Muddy Waters, a legend he played lead guitarist under.
His turn as frontman is supported by the Copenhagen Slim Band, one of Scandinavia's leading blues quartets that includes top Danish bandleader Nisse Thorbjørn and former Jamie Cullum drummer Michael Strange.
Primer and Thorbjørn first met over a decade ago when Thorbjørn was researching and playing Chicago-style blues and have frequently played and toured together since – in fact this appearance in Copenhagen is part of a wider European summer tour.
This is truly a one-off event that cannot be missed.
---
Big Creek Slim
22:00, Fri Sep 25; Mojo, Løngangstræde 21, Cph K; 70kr
Big Creek Slim must be the busiest artist of all at this year's festival. He's playing at the Blues Jamboree at Bartof Station on the 24th, followed by an afternoon set at the Sølund Plejecenter featuring harmonicist Peter Nande on the 25th, and then finally at Mojo later that night with the full five-piece Big Creek Slim band alongside guitarist Ronni Boysen.
When playing solo, Big Creek Slim's sound is reminiscent of John Lee Hooker and Muddy Waters – a raw, intense sound where deep vocals are as powerful as the driving riffs.
The music that oozes from the smokehouses and street corners of Louisiana, Mississippi, Arkansas, Alabama and Tennessee has infused into his style and compositions.
Although a wonderful solo performer, don't miss the closing full band show at Mojo.
---