News
New EU ruling could put unsafe planes in the air, warns airline boss
---
This article is more than 8 years old.
Compensation for delayed flights may offer incentive for companies to act recklessly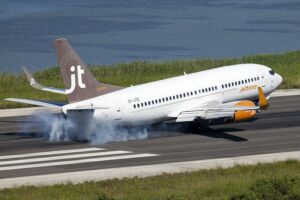 A decision by the European Court of Justice last month ruled that customers are entitled to compensation even if their flights are delayed by mechanical failures. And Klaus Ren, the head of the Jet Time airline, believes the decision could result in companies putting unsafe planes in the air.
"It offers a strong incentive to put planes in the air at all costs," Ren told DR Nyheder. "Perhaps even planes that should not be flying."
Jet Time flies for Danish charter companies like Spies and Star Tour and operates charter flights for SAS.
Cash over safety
As the ruling stand now, airlines must compensate passengers when the flight is over three hours late, even if the delay was caused by a mechanical failure. Ren fears companies might decide to fly unsafe planes rather than pay the compensation.
"This may affect the safety level of European aviation, because if planes that are not quite ready are forced to fly so the company can save millions, that is bad for safety," he said.
READ MORE: Air catastrophe over Øresund averted by metres
Ren denied he is unconcerned with passenger rights.
"I come from an industry in which customers buy the same charter trip over and over again," he said.