News
Defence minister takes in anti-piracy action off African coast
---
This article is more than 8 years old.
NATO anti-piracy operation Ocean Shield has made the waters off east Africa safer in recent years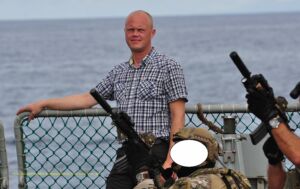 The defence minister, Peter Christensen, was at hand to observe an anti-piracy exercise off the coast of east Africa as part of his first visit to deployed Danish forces.
For the past two days, Christensen has been aboard the Danish Navy support vessel Absalon, which operates in the sea off the coast of the Horn of Africa as part of the NATO anti-piracy operation Ocean Shield.
"It's the first time as defence minister that I have visited one of the units deployed by the Danish Defence," said Christensen. "And I must say I was particularly impressed by the professionalism, skill and passion they convey out here in the real world."
READ MORE: Defence Minister welcomes home F-16 squadron
Safer waters
"The visit has confirmed my belief that Danish Defence exerts a huge effort – including here in the sea off the Horn of Africa, which is significantly safer to traverse for sailors than it was just a few years ago. We can thank our men and women in uniform for that, and that's exactly what I've being doing during my stay."
During his visit, Christensen witnessed an anti-piracy exercise involving the Danish forces and their international co-operation partners.