Community
Out & About: Downtown, inside, workin' la future loca
---
This article is more than 8 years old.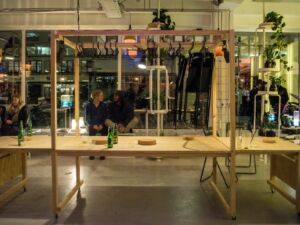 Last week on Thursday, it was the opening party for Space 10, the new project of the guys from ArtRebels and Trailerpark Festival who have teamed up with IKEA and Spacon & X to create a 'future-living lab'.
An open bar, organic food and good music filled the place with curious folk who had showed up to see this new project, which envisions the future of the work office space.
The three-floor building will serve as the new office of the Rebel Agency, but also as a place that will gather designers, scientists, new talents, radical thinkers, artists and anyone who wants to explore and experiment in this playground for creating future ideas.
The building was designed by Spacon & X whose mission is the optimisation of space in urban cities. In this building in particular they had to make use of 1,000 sqm in a transformable and flexible way, where one space can immediately transform into a meeting room or an office or a presentation room.
Stay tuned for interesting pop-ups, workshops, talks and other weird but cool stuff that will happen from now on in Space 10!