Opinion
Crazier Than Christmas: Theatre is alive and well
Vivienne McKee
---
This article is more than 8 years old.
This year's Crazy Christmas Show opens soon and my company of actors and stage technicians are looking forward to presenting many evenings of fun for our audiences.
Lights, audience, interaction
Theatre demands teamwork like no other form of art. Apart from the involvement of the actors, there are artists who create the sets, and technicians who make the lighting and sound that enable us to be seen and heard inside Tivoli's 1,000-seat theatre.
And, of course, there would be no theatre at all without the participation of a live audience. Unlike the TV and film world, where technicians and actors can forget about the audience and leave it to the distributors to worry about whether there will be any viewers to admire their work, in the world of live theatre – without an audience, there is nothing.
Lights, camera, inaction
I have acted in several films and TV series and I often find it an unsatisfying experience. You learn your lines, are told where to stand, and then the cameras roll.
There is no audience to play to. Your job is to please the director. You can give your best performance, only to discover later that it has been cut out of the movie.
Tights, Chamberlain, action!
In my 20s, I was in a huge blockbuster movie called 'The Slipper and the Rose', an all-star musical version of the Cinderella story. As a young actress not long out of theatre school, I was thrilled to be in a big movie playing the role of the princess engaged to Prince Charming. The prince also happened to be my teenage heart-throb, Richard Chamberlain. Imagine – I even had a screen kiss with him!
I remember one morning sitting next to him in make-up as he stared at his handsome face in the mirror. He suddenly said: "Look at me! I'm too old to play a fairy-tale prince. I miss acting in the theatre. It's more fun and less appearance-obsessed."
Slights, cinema, extraction
Six months later, we were invited to see the finished movie at a royal command performance in Leicester Square. After standing in line to meet the queen, we took our seats to watch the film for the first time. To my horror, my much boasted-about kiss had been cut out! Even worse, the daughter of a cameraman sitting in front of me cried out: "Oh Daddy, I hope he doesn't marry HER!" Like Richard, I couldn't wait to return to the theatre.
Lights, cabaret, satisfaction
People often ask me: how can you do the same thing on stage every evening for months without getting bored. Well – thanks to the interaction between the actors and the audience, no performance is ever the same. Theatre will be alive and kicking for as long as there are crazy people willing to get on stage and act, and audiences eager to enjoy a live, one-off experience.
So roll on the opening night at Tivoli's Glassalen, followed by 60 unique performances of this year's Crazy Christmas Show, 'Don't Touch Nefertiti', where I have made sure I have kisses every night with my handsome actors.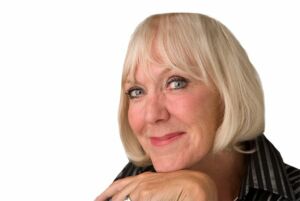 About
Vivienne McKee
Vivienne McKee, Denmark's best-known English entertainer, is this country's most beloved foreign import. Over the last 34 years, hundreds of thousands of Copenhageners have enjoyed her annual Crazy Christmas Cabaret show at Tivoli, marvelling at her unique, wry Anglo wit and charm.